For Sale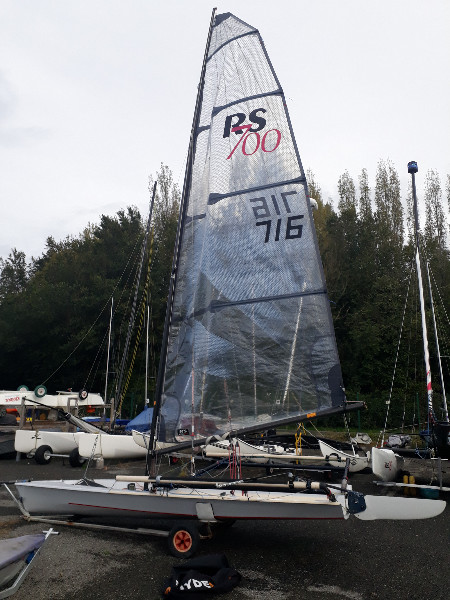 RS700 716
Price:
EUR4500
Built in 2001 Wings 8 holes with baby bars Refit and strengthening in accordance with the shipbuilding of new boats (professional work 2017) Frame around the forward gunwale Straight dagger board case Rear inspection hatch Glass wear pads under spinnaker sheets blocks, glass collars under forward wings tubes, glass collars under shrouds U Bolts. Reinforcement hull and deck forward area Reinforcement of the mast step Spray painting hull and deck, non slip texture Mast 2019 1 mainsail 2019 1 mainsail 2014 1 training mainsail Ultimate Sails 2018 1 full battened training mainsail Ultimate Sails 2018 1 Spinnaker 2017 3 olds spinnakers Deck and hull covers 2017 Dagger board 2014 Rudder blade 2014 Bowsprit 2013 Combination road base with launching trolley (moulded cradle) Rig tensioner 81 Vang 241 Tack tick compass racemaster Stamasters 2 carbon sticks Carbon tubes trapeze ( contender style ) Laying Saint Malo FRANCE
Contact: henri Chemineau
Tel: 0609334956 |
Email
Posted: 13/07/2020
Approved: 13/07/2020 | Expires: 21/10/2020
Please sign in or register to post your item in the For Sale section.

NOTE: All details on this page have been entered by the sailors themselves, any comments, are not related in any way to the RS Class Association.