Champion Profiles
Jerry Wales

Profile:
I am now too old and senile to remember much about my sailing past, in fact much about yesterday is challenging. I can remember that I am an admirer of what the folk at RS have done over the last 20 years (despite the 20 years of awesome logo) and a big fan of the RS700. It may appear that the RS700 is initially a difficult boat to sail (like others in its category) but swear obedience to a few basic golden rules and it becomes remarkably easy to sail (unlike others in its category) both technically and thankfully for us old blokes, physically, and there lies the reason why I am still sailing and enjoying it.

I feel blessed to have been able to move down to Cornwall three years ago. Restronguet/Windsport is a glorious place to sail from. You are welcome to come and join the enthusiastic group of RS 700 sailors down here, if only for a few days, if the opportunity arises.



Tips:
Spend as much time as you can away from the club race course to learn and apply the basics. If I could just remember what those were I would happily tell you. Come to as many RS700 events as you can and sail as if you were still practising. Stick to the basics, ignore other boats and read the sailing instructions.


Robbie Bell

Profile:
Grew up messing around in boats at Snettisham Beach where I still sail today. The challenge of sailing at Snettisham with big tides and plenty of chop has stood me in good stead this year competing at Eastbourne. I love sailing the 700 and have some cracking racing at SBSC with the others, despite being a single hander it's a really sociable class, plenty of people willing to help you out. The boat is great fun and very rewarding to sail, there's a steep learning curve but the satisfaction when you get it right is superb.



Tips:
If it's going to be a windy nationals…eat plenty of pies!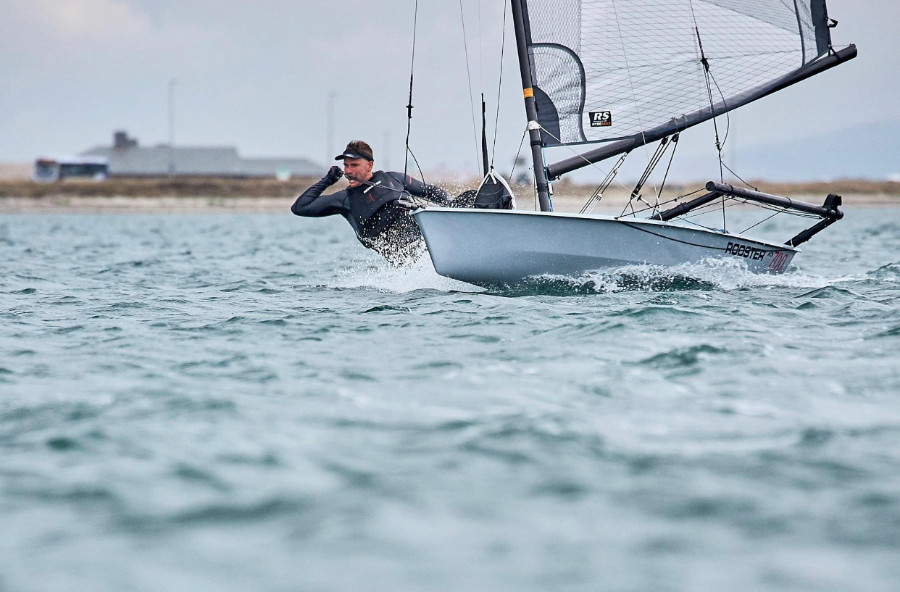 Theo Galyer National Champion 2019
Profile:

I was lucky enough to be encouraged by my father into dinghy sailing at the age of 6. Playing dodgems on Emsworth millpond in a wooden bathtub was great fun. I was also drafted in to crewing an Iso with my dad from time to time. As soon as I had a taste for racing I was hooked. I was blessed to experience an eclectic progression of boats which went from Optimist, Topper, Laser, Finn, B14, RS800 and I now own a 49er and of course the wonderful RS700. I believe the rush of asymmetric skiff sailing downwind is what gripped me. Also not having a crew to blame for my results pushed me to campaign the RS700.
After not finding any success in the RYA squad system I finally found my sense of belonging in the RS700 class (this took some experimenting). The main reason for this was the helpful friendly vibe I encountered not only from a local perspective at HISC but also from attending my first circuit event in 2016. The class certainly wasn't elitist which was important to me. However the learning curve was steep and it took a lot of failure in order to just get the boat around a windward leeward course the right way up. Especially out in the Solent. Encouragement/advice from new friends made in the class were priceless and seeing improvement in results made it all worthwhile.
I decided to take the plunge and buy a brand new boat in 2018 in an effort to remove all excuses. Due to more time in the boat I found my pace. Picking up ambassadorship with Rooster was very helpful. Perhaps I got a bit carried away with everything but managed to dislocate my shoulder pulling up the kite in the last race of the Europeans/Nationals at the RS Games at WPNSA battling for first place with Robbie Bell! I spent a lot of time in the gym that Winter working on rehab of my shoulder with the determination I would come back stronger, harder and faster.
2019 was a good year for me: a few years of determination finally started to pay off with getting on the podium at Garda and taking the Nationals with a race to spare, despite breaking a mast mid event! (life is never simple). I was also pleased to win the asymmetric fleet at the notorious Chichester Harbour Race Week which has always been a personal goal.
Tips:
Just throw yourself in at the deep end. Go to events and get involved. Remember just finishing a race is an achievement in this boat. This is genuinely one of the friendliest classes you will encounter and people love to offer help and advice. Downhaul is your best friend in this boat.
Photo thanks to Dave Treagust of Rooster
Tips: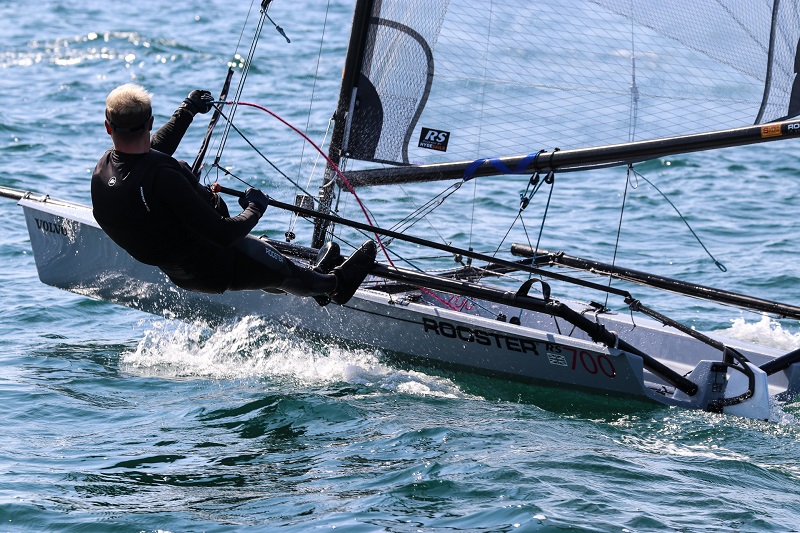 Theo Gayler 2020
Profile:

Still in love with boat after some years. I have met some friends I will have for life which is fantastic. The brilliant thing is no matter what stage you are at with the RS700 there is always more to learn. Nothing compares to a race in 20 knots hanging out the back of the boat, this is unforgettable.
Tips:

Time on the water in all conditions. Yes, unfortunately that means light winds as well! Know your boat like the back of your hand.
Jerry Wales 2015
Profile:

Ever since my first sail in a friend's Mirror dinghy in the sixties all I ever wanted to do was mess around on the water. While at school I sailed Mirrors, built a few Moths but mostly canoed. In what I hoped would be a prelude to a career in the marine industry I spent the summer of '76 building Flying Dutchman, listening to "Going to Barbados" on the radio and living in a caravan. Living the dream? Well, no, 1976 was a bad time for the marine industry so the boy from suburbia went home and started counting beans for a living.
Fast forward through all that stuff that gets in the way of sailing like rebuilding houses, working in the States and the inevitable Laser years and RS was starting to come on the scene in a big way and that seemed the obvious place to be (it was and still is) so I got an RS300 which despite its cult status is still massively under rated. We had some very good times concluding with a Nationals win in 2000.
It was probably in 2002 when an RS700 was left on my drive on a sail or return basis. Spinnakers, trapezes and masts with wires on, what's all that about? It was going to be ugly but after a year learning the tricks I was third in my first Nationals in 2004. Work took over again and I had a few years in the Musto Skiff, but eventually I saw the light and got another RS700. On reflection coming back to the RS700 was like coming home after a tour of duty in Iraq.
Three Nationals and three Euro wins later and I feel I am just starting to get on top of this sailing lark. But, coming off the back of this year's Nationals I have a list errors and cock ups (yes, that tack onto port in the second race) to put right over the Winter if the body allows.
Tips:

It's obvious really - practise!