Results / Rope4Boats Inland Championships Chew Valley Lake SC - 11/11/2023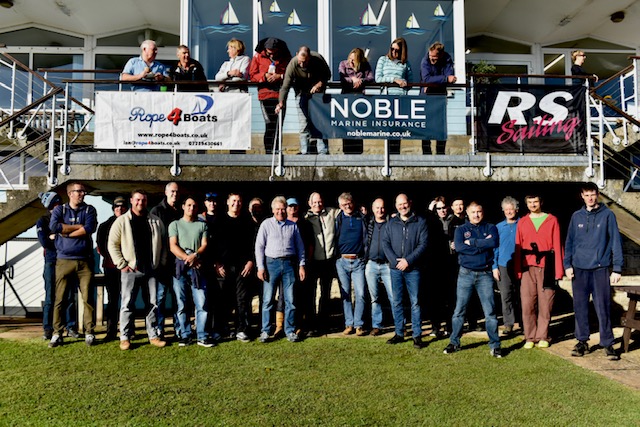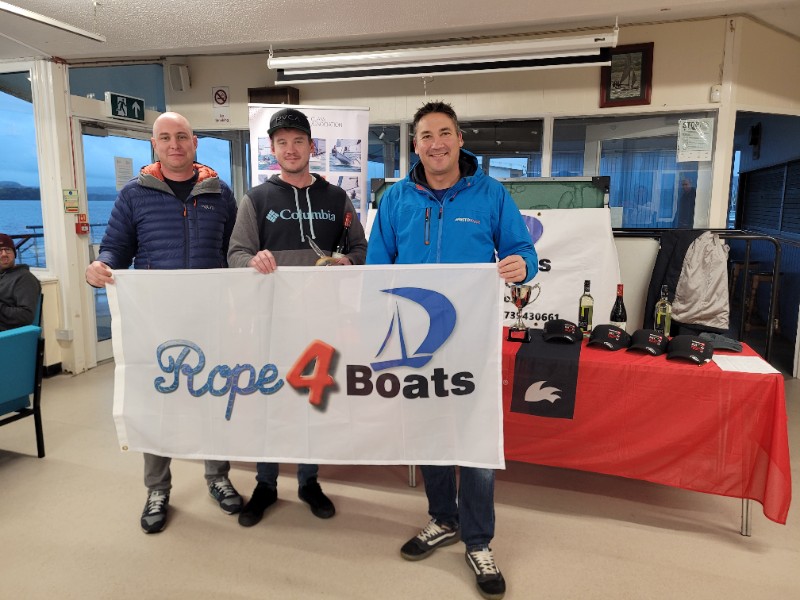 Congratulations to Rob Higgins Rope4Boats RS700 Inland Champion 2023!
The fleet arrived at the stunning Chew Valley Lake sailing club to be greeted by bright sunny conditions, a lake full of water but a distinct lack of wind.
True to forecast the wind never filled in and the race committee took the wise decision to quicky abandon racing for the day allowing the fleet to participate in some other activities. Some went off on a bike ride around Chew Valley and others headed to the local rugby club to watch the game. The fleet then came back together to enjoy a delicious meal in the evening.
Sunday dawned and four races were promised. The race officer true to his word set a course and quickly got into things.
Race 1:- The fleet obviously still in coffee and bacon roll mode from the previous day decided they would be very relaxed at the start. This allowed Rob Higgins a free run in and head off upwind into about 10 knots of breeze. Rob led at the top mark, James Clark continuing to show off his blistering up wind speed closely followed with Matt Connor in third. James got past Rob on the next beat only to be rolled at the top mark. Rob took the win closely followed by James and Matt Carter who recovered well.
Race 2:- With the breeze now around 7 knots James and Rob again led the fleet away. James lead at the top mark with Rob and Matt Carter in hot pursuit. James allowed Rob to sneak inside at the bottom gate to take the lead. These positions stayed the same until the last run where Matt played the gusts down the lake really nicely to over haul James. Matt Connor taking fourth.
Race 3:- James port tacked the fleet headed to the right and that was that, he won by miles. The racing was again very close behind with lots of position changes, Rob fended off Matt Carter to take second and third respectively. Nathan Steffenoni fourth, Elliot Booley fifth.
Race 4:- With everything still to play for some of the fleet decided to push the U flag and take an early bath. Rob and James avoided the committee boat raft up and headed off out to the left hand side of the course. Rob managed to hold his inside line and could tack to cover James. Rob extended away to take the race win, Matt Carter again showing some final run magic to overtake James. Matt Connor took fourth, Chris Wright fifth and Sam Simmonds at his first event sixth.
Overall Rob took a well-deserved win, with his impressive 3 points from 3 race wins
Thanks to our sponsor Rope4Boats and to Chew and all the volunteers that helped make a fantastic event. Looking forward to coming back in 2024!
Up on Y&Y here
RS100 & RS700 Inlands 2023
Chew Valley Lake Sailing Club
RS700 Fleet
| Rank | Fleet | Class | Sail Number | Helm Name | Club | R1 | R2 | R3 | R4 | Total | Nett | Notes |
| --- | --- | --- | --- | --- | --- | --- | --- | --- | --- | --- | --- | --- |
| 1st | RS700 | RS700 | 1029 | Rob Higgins | Chew Valley | 1.0 | 1.0 | (2.0) | 1.0 | 5.0 | 3.0 | |
| 2nd | RS700 | RS700 | 765 | James Clark | Chew Valley | 2.0 | (3.0) | 1.0 | 3.0 | 9.0 | 6.0 | |
| 3rd | RS700 | RS700 | 1062 | Matt Carter | Lancing | (3.0) | 2.0 | 3.0 | 2.0 | 10.0 | 7.0 | |
| 4th | RS700 | RS700 | 1060 | Matt Conner | QMSC | 4.0 | 4.0 | (8.0) | 4.0 | 20.0 | 12.0 | |
| 5th | RS700 | RS700 | 710 | Nathan Steffenoni | Weston SC | 5.0 | 6.0 | 4.0 | (9.0 OCS) | 24.0 | 15.0 | |
| 6th | RS700 | RS700 | 1063 | Elliot Booley | Chew Valley | 7.0 | 5.0 | 5.0 | (9.0 OCS) | 26.0 | 17.0 | |
| 7th | RS700 | RS700 | 909 | Chris Wright | Yorkshire Dales SC | 6.0 | (7.0) | 6.0 | 5.0 | 24.0 | 17.0 | |
| 8th | RS700 | RS700 | 763 | Sam Simmonds | Chew Valley | (8.0) | 8.0 | 7.0 | 6.0 | 29.0 | 21.0 | |