Results / Rope4Boats Inland Championships Chew Valley Lake SC - 11/11/2023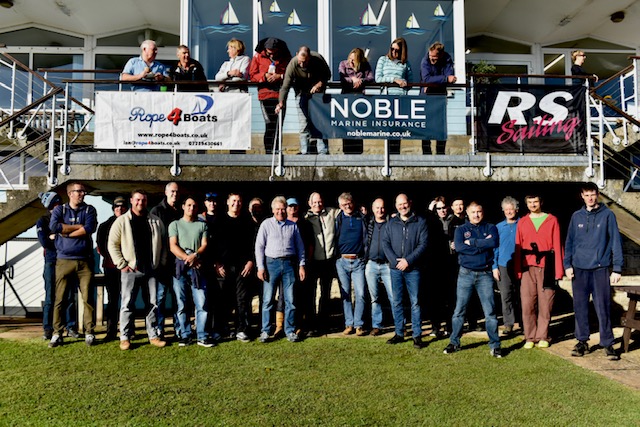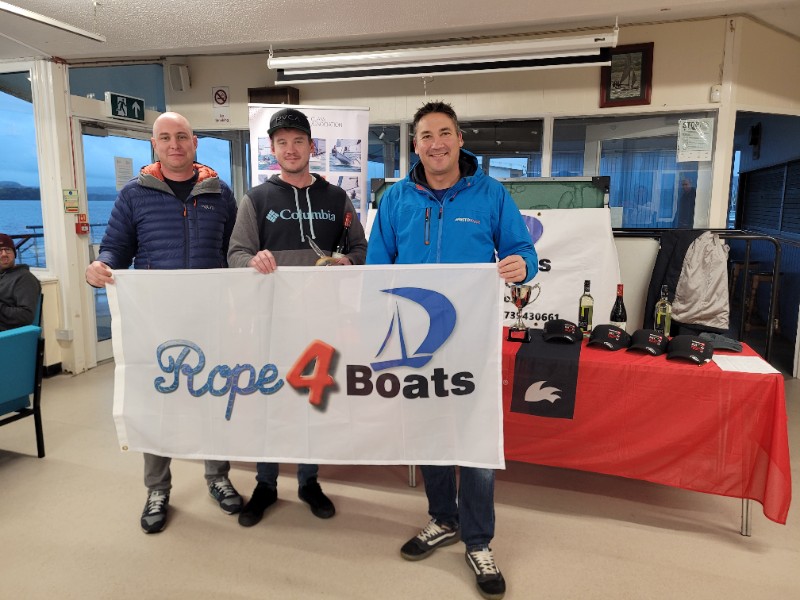 RS100 Rope4Boats Inland Championship at Chew Valley Lake SC
11/12 November 2023
Herein starts the campaign to ban sailing club vidcams. Yes, they potentially encourage people to stay at home if the outlook is unfavourable. But far worse, this weekend at the Rope4Boats RSS100 Inlands at Chew Valley Lake SC they spoilt our endeavours at a wind-up.
For what seems like months, XCweather (other weather apps are available and can't be any worse) has been predicting Michael Fish level hurricanes when what we actually received were driftathons. For Saturday of our Inlands, when it said 0mph, you can thereby rest assured sailing will not be on the menu.
Accordingly, Huw Powell decided to gather some unexpected brownie points and spend most of the day at home, travelling west in time to rig and join the (excellent) evening social.
In a lifetime first, Mostyn Evans was fastest out of the gate, Whatsapping Huw at midday to say "15 knots (aka Huw minimum) had unexpectedly arrived, the AP was down and we were off racing."
But, but, but and again but, smartar$e Huw had been monitoring that blessed club vidcam, so was in absolutely no doubt we were joshing him. They've simply gotta go.
Second lesson from the event is that we need to change Notice of Race and SIs for two-day events such that, in the event of no sailing on day one, start time is brought forward and more than one race can be carried over to day two.
In this instance though, quite rightly, we observed two-minutes silence at 11am on Sunday, then off we went, into a seriously patchy, shifty but perfectly sailable breeze. After a day off, the fleet was now altogether too keen to get going, resulting in three UFD binnings and your correspondent Clive Eplett tacking out at the committee boat with 10secs to go, gifting pole-position to Huw.
Jaye Rickards looked like she was going to be first at the first mark though (helped perhaps by her OCS) but the final shift allowed Andy Jones to sneak in and steal Jaye's glory. This was not an easy day to maintain, let alone build a lead, but Andy did so masterfully. Class chairman David Smart got very close after finding a pocket of nice pressure and perhaps might have got his nose in front if he'd not been laughing at your correspondent tipping it in whilst gybing onto the aforementioned gust. Frensham's Ian Gregory worked his way past Dave with National Champ Nigel Wakefield sniddling his way to 4th.
Thereafter (ie I can't remember the details) several of us had a go at leading in the following three races, but after his slow (by his standards) race-one, Nigel woke up and negotiated the bear-traps masterfully to win the next two with Ian getting a 2 and 3 and Clive 3 and 2. Smartie's 3rd on the water in R3 went out of the window on the U-flag.
Going into the final race, this left things tight between Nigel and Ian for first and second and, distantly, Clive and Dave for third and fourth. This time, although pushed hard by Nigel, Ian led throughout, but Nigel's second was enough to retain the Rope4Boats Inlands title by a point from Ian. Those two were in a class of their own. Clive held third from Dave, also by a point. Next up was Euro-cup holder Tom Halhead, returning after his traitorous defection to the RS400 fleet. It took him a race to remember that without a crew, he had to call the shots himself, thereafter he was Mr Consistent with three 4ths.
After some additional number crunching to determine the outcome of the 2023 RS100 Rooster National Tour, score-keeper Mark Harrison was most upset to learn that Clive Eplett had come out on top, with Nigel second (I fear that missing out on a 2023 clean-sweep will have annoyed him and he'll be even faster next year) on countback to Matt Johnson, with Ian pipping Mark, also on countback.
Thanks to all our sponsors and hosts across the year, we've had some great sailing and, among other things, have a trip to Carnac to look forward to in 2024.
Clive Eplett
Unofficial RS100 Committee Member
RS100 & RS700 Inlands 2023
Chew Valley Lake Sailing Club
RS100 Fleet
| Rank | Fleet | Class | Sail Number | Helm Name | Club | R1 | R2 | R3 | R4 | Total | Nett | Notes |
| --- | --- | --- | --- | --- | --- | --- | --- | --- | --- | --- | --- | --- |
| 1st | RS100 | RS100 | 145 | Nigel Wakefield | Netley/Lymington Town | (4.0) | 1.0 | 1.0 | 2.0 | 8.0 | 4.0 | |
| 2nd | RS100 | RS100 | 259 | Ian Gregory | Frensham Pond | 2.0 | 2.0 | (3.0) | 1.0 | 8.0 | 5.0 | |
| 3rd | RS100 | RS100 | 509 | Clive Eplett | Frensham Pond | 5.0 | 3.0 | 2.0 | (6.0) | 16.0 | 10.0 | |
| 4th | RS100 | RS100 | 523 | David Smart | Chew Valley | 3.0 | 5.0 | (23.0 OCS) | 3.0 | 34.0 | 11.0 | |
| 5th | RS100 | RS100 | 393 | Tom Halhead | Llandegfedd | (10.0) | 4.0 | 4.0 | 4.0 | 22.0 | 12.0 | |
| 6th | RS100 | RS100 | 505 | Andrew Jones | Chew Valley | 1.0 | 7.0 | 8.0 | (10.0) | 26.0 | 16.0 | |
| 7th | RS100 | RS100 | 508 | Huw Powell | Red Wharf Bay / Netley | 9.0 | (10.0) | 6.0 | 8.0 | 33.0 | 23.0 | |
| 8th | RS100 | RS100 | 130 | Stephen Jones | Chew Valley | 7.0 | 12.0 | (13.0) | 5.0 | 37.0 | 24.0 | |
| 9th | RS100 | RS100 | 159 | Tim Johnson | Chew Valley | (23.0 OCS) | 11.0 | 5.0 | 9.0 | 48.0 | 25.0 | |
| 10th | RS100 | RS100 | 12 | Jaye Rickards | Chew Valley | (23.0 OCS) | 8.0 | 9.0 | 11.0 | 51.0 | 28.0 | |
| 11th | RS100 | RS100 | 314 | Mike Green | Pevensey Bay | 6.0 | (13.0) | 11.0 | 12.0 | 42.0 | 29.0 | |
| 12th | RS100 | RS100 | 379 | Mark Harrison | Gurnard SC | 8.0 | 9.0 | (14.0) | 13.0 | 44.0 | 30.0 | |
| 13th | RS100 | RS100 | 238 | Gavin Thompson | Chew Valley | 13.0 | 15.0 | 7.0 | (16.0) | 51.0 | 35.0 | |
| 14th | RS100 | RS100 | 226 | Simon Bennett | Chew Valley | (23.0 DNS) | 23.0 DNS | 10.0 | 7.0 | 63.0 | 40.0 | |
| 15th | RS100 | RS100 | 331 | Nick Edmonds | Chew Valley | 15.0 | (16.0) | 12.0 | 15.0 | 58.0 | 42.0 | |
| 16th | RS100 | RS100 | 268 | Bart Bridgen | Netley SC | (23.0 OCS) | 6.0 | 16.0 | 23.0 OCS | 68.0 | 45.0 | |
| 17th | RS100 | RS100 | 526 | Mostyn Evans | Mounts Bay | 14.0 | 17.0 | (18.5) | 14.0 | 63.5 | 45.0 | |
| 18th | RS100 | RS100 | 208 | Darrell Sleep | Staunton Harold SC | 12.0 | (19.0) | 17.0 | 18.0 | 66.0 | 47.0 | |
| 19th | RS100 | RS100 | 206 | Jon Elmes | Chew Valley | 11.0 | 14.0 | (23.0 OCS) | 23.0 DNS | 71.0 | 48.0 | |
| 20th | RS100 | RS100 | 174 | Daniel Webber | Chew Valley | (23.0 DNS) | 18.0 | 15.0 | 17.0 | 73.0 | 50.0 | |
| 21st | RS100 | RS100 | 218 | Richard Wach | Bristol Corinthian Yacht Club | 16.0 | (20.0) | 18.5 | 19.0 | 73.5 | 53.5 | |
| 22nd | RS100 | RS100 | 458 | Matthew Scott | Chew Valley | (23.0 DNS) | 23.0 DNS | 23.0 DNS | 23.0 DNS | 92.0 | 69.0 | |