Results / Noble Marine RS700 RS800 National Championship Castle Cove SC - 09/09/2021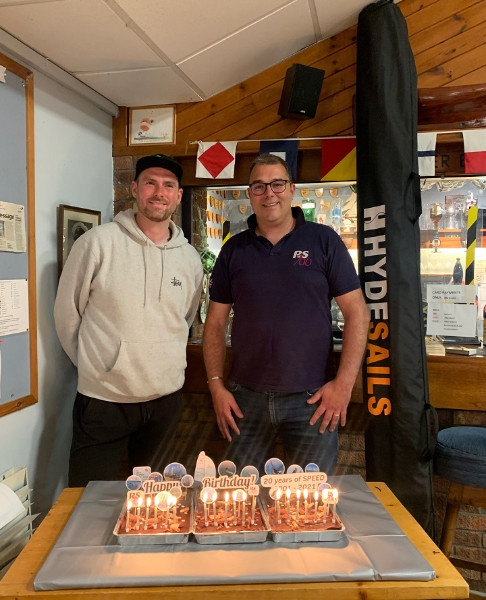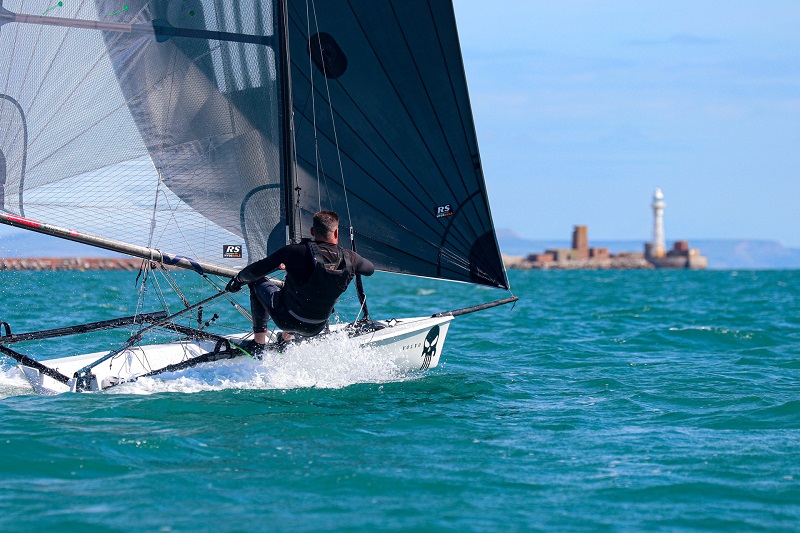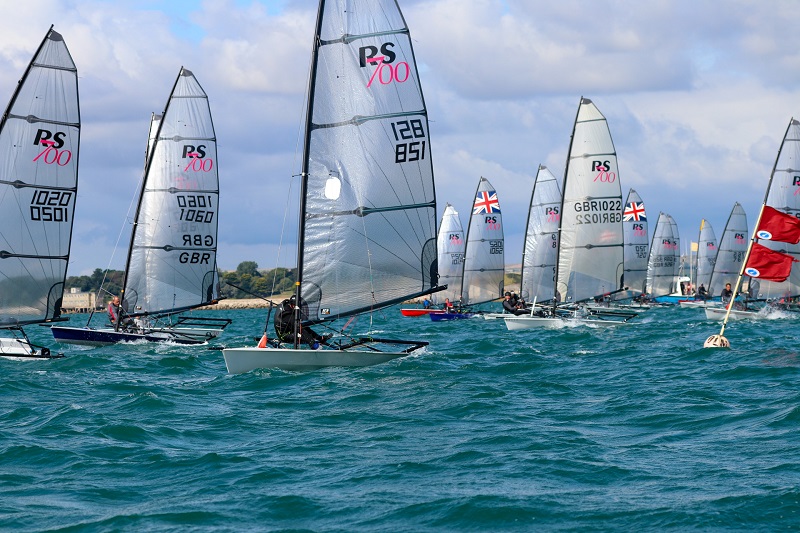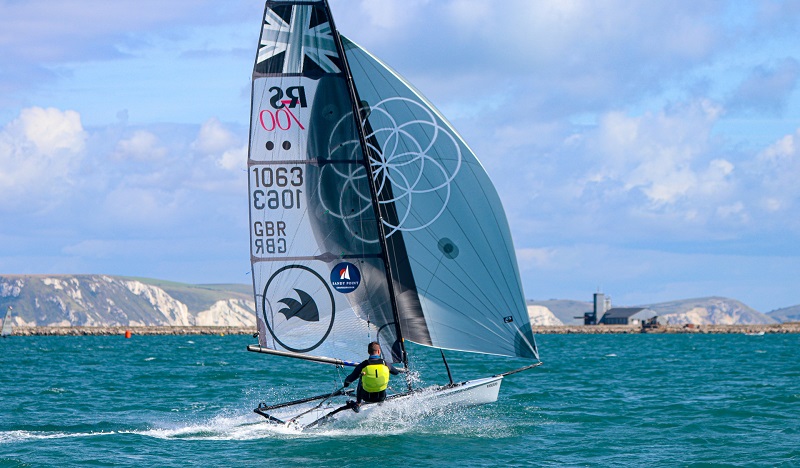 CONGRATULATIONS TO THEO OUR 2021 RS700 NATIONAL CHAMPION!
CONGRATULATIONS TO TOM AND GUY OUR 2021 RS800 NATIONAL CHAMPIONS!
Find results right at the bottom. Photos thanks to Richard Bowers and RS Sailing.
Richard has published his gallery here. He is happy for you to download the photos for free. He can edit the photos for you for a small fee.
Click on the heading below to be taken directly to it:
RS700 and RS800 Day One Vid by Jon Emmett
RS700 and RS800 Day Two Vid by Jon Emmett
RS700 and RS800 Day Three Vid by Jon Emmett
RS700 and RS800 Day Four Vid by Jon Emmett
RS800 Nationals' Runners and Riders
RS700 2021 Noble Marine National Championship Form Guide
Name

Club

Form

Odds

Theo Galyer

Hayling Island SC

National Champion for 2019 and 2020 and Class Chairman. No-one takes RS700 sailing more seriously than Theo, but can he make it three in a row?

5:3

Ian Swann

Hayling Island SC

Often found near the front of the fleet, occasionally found standing on his centreboard shouting profanities. Cover your ears kids.

8:1

Roland Smith

Hayling Island SC

With the fleet's newest boat, he will be looking to win the Concours prize. With newfound pace Roland will be aiming for Gold fleet results.

18:1

Matt Carter

Lancing SC

Ruthlessly trained to be calm under pressure, the unflappable Matt Carter is consistently quick. A serious contender for a Blue Riband.

3:1

Ben Cooper

Lymington

Coming out of an extended hibernation, Ben showed his potential at last year's Inlands.

6:1

Richard Wadsworth

RNSA / Stokes Bay SC

Wadsworth brings his naval principles to the racecourse - he never gives way when he's locked on target. Revels in punishing conditions, so if it's a windy one, he'll be at the front.

3:1

Matt Conner

Queen Mary SC

Having invested in a historically fast boat and sinking plenty of time on the water in the last year. This Queen Mary relic has shown fast straight line speed in 2021. Expect to see him aiming for the podium this year.

3:1

Andy Wright

Queen Mary SC

Back for his second nationals and showing great pace. Likely to be challenging for the Silver fleet win.

16:1

Simon Hawes

Queen Mary SC

If you can polish your way to victory, Simon will be at the front. Either way a strong Silver fleet challenger.

18:1

Rob Higgins

Chew Valley Lake SC

Suitably quick in his Rosso red boat, Rob has returned to the fleet as one to watch. Will be looking to improve on last year's 3rd place with strength right across the wind range. Could be his year.

2:1

James Clark

Chew Valley Lake SC

After a summer of intense two-boat training with Rob Higgins, will he be fast enough to catch him?

12:1

Nathan Steffenoni

Weston SC

Put in a very credible performance at Lymington to prove his mettle. A sailmaker by trade, so expect his tell-tales to be flowing at all times.

16:1

John Lawson

a.c. Treffort Voile

Already winning the prize for most miles travelled, he won't want to be going home empty handed.

20:1

Malcolm Streeton

Hayling Island SC

Mast failure brought an end to his event at Torbay. If he can keep it pointing upwards, he will be mixing up in the middle.

18:1

Curtis Drew

Gt Yarmouth and Gorleston SC

Progressing well and will be looking to benchmark in the fleet at his first nationals

18:1

Stephen Carr

Brightlingsea SC

Has been unlucky with gear failure in previous events. Always one to watch out for on the racecourse.

20:1

Simon Hamilton

Queen Mary SC

Ex 18ft skiffer who's right at home on his wide racks. Great on the bow, great on the main, great on the stick. Just needs to be able to do them all at the same time. Expecting moments of glory.

16:1

Richie Thurlby

Hill Head SC

New to the fleet so current form unknown. With a background in 29er and RS800s there's plenty of experience to call on, but will a lack of crew hold him back?

20:1

Peter O'nions

Draycote Water SC

Calm and steady, Peter will be switching off the autopilot this year and be hunting for a silver fleet win.

16:1

Guy Boullenger

Chew Valley Lake SC

Chew Valley's secret weapon. Sailing under the Tricolore and, as yet, unseeded.

20:1

Ashley Strong

Oxford SC

After extreme conditions at his home club and light winds at Torbay, yet to show his hand.

20:1

Stephen Hermanson

Queen Mary SC

A lightwind maestro who's hard to catch sub 10 knots. Loves the nip and tuck.

10:1

Paul Atkinson

Lee on Solent SC

Unknown form for this new entrant. Could he go straight to the front?

20:1

Jack Napolitano

Snettisham Beach SC

Having been coached by the European Champ, Jack brings youth and talent.

15:1

Phillip Highfield

Gt Yarmouth and Gorleston SC

Wide wing hero - give him room at the roundings, lots of room. Can blast it with the best of them

8:1

Pete Purkiss

Brightlingsea SC

Known as Pistol Pete for his ability to get off the line in pole position, more often than not he can hold it around the course too. When it's light, he's out of sight.

3:1

Simon Clark

Lyme Regis SC

Has mixed it up in the middle in previous nationals. Has time away been spent training to win?

18:1

William Homewood

Lymington Town SC

New to the fleet after a spell in I14s. Showed great speed at Lymington and carrying significant youthful advantage.

14:1
By Matt Conner
Up on Y&Y here
Runners and Riders at 2021 RS800 Noble Marine National Championship
Has anything actually happened since we lined up in Portland Harbour for the last nationals? With very few events to go on in the build up to this one it really is anyone's guess as to who is hot to trot and who is trying to remember which hole the forestay goes in. However, with the awesome Castle Cove lined up as hosts and some added levels of heroic inspiration after watching the sailing and the ping pong at the Olympics I'm sure it will be a classic.
So who is going to prevail? Does it matter? What colour is smaragdine? What's the average weight of a cumulus cloud? Here we go...
OK so dropping in with Tom Morris (AKA "Mozzy Sails") and Guy Filmore (AKA Hard As Nails). Whilst these guys are probably the favourites with their impeccable sailing and a track record of doing the business they do often add a bit of chaos to spice things up. Whether this is mast snapping escapades or an attempt by Guy to cut his own leg off, weird stuff happens. Alongside the penchant for chaos, this year Tom will be having to deal with the weight of 16.9k YouTube subscribers looking on after becoming the YouTubers everyman of the America's Cup. He is the now the household name for colourful lines on screens and heavily inferred Dean Barker criticism. If Tom and Guy do prevail we should all prepare ourselves for some unskippable ads mid speech. I KID. The channel is fantastic and only 314.1k subscribers behind a channel where a guy called Ben silently sits and smiles at the camera for four hours at a time. I'm not actually kidding this time. Let's all pray for the world. OK back to the matter in hand. If anyone can keep the chaos at bay and keep focus it is the calm and collected influence of Guy. They will be up there. Will they win? Subscribe to "Mozzy Sails" to find out.
Next in focus we have Luke and Emma McEwen. Dripping in pedigree (disgusting) these two have won it all and then some. Year after year Luke and Emma have been sailing into the distance and making us all look a little foolish in the lighter stuff. I don't know what horrible things Luke says to Emma downwind but she can normally be found sheltering on the spinnaker pole. There is a sit forwards mode and then there is the McEwen version. They wrapped up the RS Summer Champs earlier in the year and will be eager to add to their amazing CV in the RS800. Between you and me they are definitely ones to watch and will be right up there (not just the spinnaker pole).
Okay dokay Rob Gullan (the Alan Hansan of "Mozzy Sails") and NA. Neil Armstrong? Nikolay Alexeyev? Nathan Ake? I'm pretty sure Rob is finding it tough to find a crew after showcasing the largest sunglasses seen on a human being at the Summers. Whoever and whatever he manages to persuade to jump on board despite a week of absolutely no face, let alone eye contact, will likely see themselves (reflected in the glasses) standing on a podium at the end. Rob won the Inlands last year in a mix of conditions and pushed hard at the nationals last time around so is a decent bet for the pointy end. Please send applications to crew for Rob in the post by the end of August to be in with a chance of winning (please see terms and conditions below).
Can you even call it an RS800 event if Phil Walker and John Mather haven't spent at least one race day in a local spa? The old timers in the 29er are now in danger of becoming class stalwarts in the RS800. Only entering once they were sure Rendezvous would be open these two are a bit of an enigma. Sometimes fast, sometimes upside-down, often late, they have the capacity to turn it on. As consistent as the Great British Summer time they will be hoping for a heatwave. Such a cringy line. See you at the bar guys.
Hugh Shone and Fiona Hampshire. Bit awkward writing about myself and so I asked Laurie (one year old son) how he thought we'd do and he did a kind of "raaahaaaroar". I guess that's a good thing? Who knows. After the disapointment of falling off the pace halfway through last year's nationals the boat has been going great in the breeze with a 2nd at the Inlands and a win at Lymington. Actually not sure if this was the boat or my lockdown belly? Anyway, as long as we don't go above Fiona's daily hoist quota we'll be OK.
Next in from the watering hole of Beaver are James Penty and Eddie Grayson. Clearly formidable on lakes after a smashing result at Garda a couple of years ago, these chaps will be looking to bring it home for the freshwater folk. One expects a mastery of tight turns and quick tacks after a lifetime of trying not to hit the bank. James and Eddie will be looking to re-find their form from the 2019 Euros and will be hoping the water isn't too salty.
There are so many others in the fleet that deserve a mention. Whether its Ralph Singleton and his never say die attitude to doing a port flyer no matter what, Cameron and Darrol Moss in the BIG BREEZE, Ben Palmer and Bruna masterminding their way to the front or will it be the Chris Martin gun show also starring Chris Catt? How will the class newcomers of Maria Stanley and Tom Darling, and Nick Redding and Crew do?
So many questions waiting to be answered at the 2021 RS800 nationals. But more importantly smaragdine is a kind of uninteresting green and the average cumulus cloud weighs 498951.607kg (about 100 elephants). Phew.
See you soon.
By Hugh Shone
Up on Y&Y here
The Noble Marine RS700 Nationals started with a fresh breeze with a gust of 25 knots and very low visibility, however the majority of the fleet proceeded to sail out to the start line to compete the first race. Just before the first five minute warning signal Rob Higgins decided to tack and reverse into Richard Wadsworth. This caused a double capsize for them. The first race started but unluckily Richard was still capsized while Rob had managed to get away. Theo Galyer travelled upwind at a lightning pace and rounded the windward mark with Rob close behind. As the fleet headed downwind many sailors decided they fancied a swim. Jack Napolitano took advantage of this and moved into third. The second lap and race finished with Theo leading, Rob close behind and the rest of the fleet following shortly after.
The second race started swiftly after the finish thanks to the great race committee. The start line became very busy at the committee boat and a few boats found themselves in the wrong place and got pushed off the line. These boats included Jack who ended up crossing the start line at the very back. He managed to claw his way back to the front but Theo had already pulled away from the fleet. While sailing downwind Matt Conner was observed taking the safe option of dropping the kite and tacking rather than gybing in the breeze. The race continued to be really competitive with many position changes. Theo pulled out a considerable lead and finished the day with his second bullet.
I would just like to thank Castle Cove SC on behalf of the RS700 fleet for the great racing today and for the nice warm pasties when returning to the beach after a hard day of racing.
Report by Jack Napolitano
2021 is the 20th birthday of the RS700. Alex Newton-Southon (co-designer of the RS700 with Nick Peters) joined the fleet this for its AGM and birthday party. RS Sailing and Alex marked the boat's milestone by very generously presenting the fleet with a brand new main sail as a raffle prize. The lucky winner was RS700 Chair Theo Galyer. The fleet celebrated its 20th year with a smartly decorated birthday cake and a keg of local Cerne Abbas real ale. 20 years of speed!
Noble Marine RS700 National Championship 2021 – Day Two Fri 10 Sept
With three races planned and 25 knots forecast later in the day the race committee wisely decided to stay in Portland Harbour for Day Two.
Race One started with a slight bias to the committee boat end. Theo Galyer thundered away up the beat in 18+ knots chased hard by Matt Carter and Rob Higgins, followed by Matt Conner. Downwind Theo stretched his lead and Matt Carter just stayed ahead of Rob having had a dodgy drop and nearly tipping in. Positions remained the same up the beat and downwind on the second lap. Theo stormed down the last downwind to finish first. Matt Carter and Rob bore away around the top mark with two boat lengths between them. Rob pushed hard to get ahead gybing earlier but slightly too early and ended up having to soak which allowed Matt Carter to stay ahead and go through the gate first and cross the line just ahead.
Race Two saw a steady increase in the wind and the race committee got the fleet away fairly quickly. Rich Wadsworth and Matt Conner got great starts and pushed Theo hard. Rob Higgins found some great speed to go round the top mark just behind Theo in second, chased by Matt Conner, Rich Wadsworth and Matt Carter, followed closely by Pete Purkiss and Andy Wright. Theo stormed downwind only to fall over at the gate with the kite up letting Rob and Matt Carter (who had overtaken the others) to round in second. Theo righted to restart the second beat in fourth behind Matt Conner. Rob remained in the lead with Matt Carter chasing hard on the second lap. Theo passed Matt Conner upwind to regain third but couldn't catch Rob and Matt Carter. Rob gybed early in the final downwinder and had to do a second (very sketchy) gybe just before the gate. Despite that he took the win ahead of Matt Carter, with Theo coming in third ahead of Matt Conner.
A cold hour later the race officer started race three in 25+knots. Matt Conner and Theo both got another great start just behind Rich who was charging hard enjoying the increased pressure. Rob had a tussle with Andy Wright on the line before powering past him and chasing down the leaders. Theo rounded first ahead of Matt Conner and then Rob and Matt Carter. Matt Carter bore away and buried the nose to capsize letting Rich Wadsworth and Pete Purkiss through. Theo stayed ahead for the next lap until his kite fell down on the second run causing a capsize. Rob took the lead and Matt Conner gained second place until Theo stormed past Matt upwind. On the final leg Rob fell in on the gybe with massive gusts now causing havoc across the course. The lead boats weaved their way through an RS700 graveyard downwind. Theo got past Rob who managed the quickest righting of the whole day to recover and finish second. Matt Carter remained ahead of Rich to finish third.
All up we had an incredible second day of sailing with hard racing duels across the fleet. Even though the wind increased to become challenging for everyone the fleet remained out for all the races and competed hard which is a testament to the new fleet members. Theo remains in the lead overall, followed by Rob and Matt Carter in third. Bring on day three!!
By Matt Carter
Thanks to sponsorship from RS Sailing the sailors were welcomed ashore by a can of chilled pop or booze in return for handing in their tally.
Our daily prize giving was sponsored by Noble Marine. Theo and Rob collected an insulated water bottle, while Theo was also awarded a cap, After Eight Mints and this season's smart RS Class Association UV neck sleeves for his race wins across day one and two. Thank you Noble Marine and very well done Theo!
Sunshine and a solid force four greeted the sailors on day three of the Noble Marine RS700 National Championships. Whilst there were some tired bodies from the previous two gruelling days everyone was keen to get back to the race course, which was once again in the harbour.
Race One saw a clean start with the majority of the fleet favouring the left-hand side of the course. Theo Galyer once again began to show the rest of the fleet a clean pair of heels with Rob Higgins, Matt Carter and Richard Wadsworth in a tight contest behind. Rob unfortunately broke his tiller extension during a tack which let Matt through to finish second and Richard third.
By Race Two the wind had increased to 15 to 18 knots and followed a similar pattern to Race One, with Theo taking a commanding lead and tight competition for the remaining positions between Rob, Matt and Richard. Despite Roland Smith giving Theo a "squeeky bum" moment on the last lap with a very close windward leeward incident, Theo went on to take the win, followed by Rob and Matt.
Race Three begin with Simon Hamilton finding himself in a Peter O'nions and Matt Conner sandwich, but once the pleasantries has been exchanged the fleet blasted up the course. Following advice from Theo, Simon Clark decided to apply more kicker during this race, but his boom objected! The race finished with Theo taking the win followed by Rob and Richard.
After three hard races the sailors were looking forward to a well earned beer, but the race officer decided to throw in a bonus race due to the light forecast for Sunday. The wind has dropped to 12 to 15 knots for the fourth race and once the RS700s navigated all the capsized RS800s on the start line the race got underway. Theo once again pulled out into the lead with a chasing pack of Rob, Richard, Matt Conner and Matt Carter. Although this could have been a procession to the end the Sailing Academy decided to deploy a swarm of kids in RS Zests onto the left-hand side of the course. This forced the RS700s to bang in an extra gybe to avoid potentially embarrassing media coverage and a lengthy legal action. This left Matt Conner's boat confused (because it had only done squares all week) and threw him in on his first port gybe of the week, relegating him from fourth to eighth place. Ahead of him Theo took his fourth bullet of the day, followed over the line by Rob and Richard.
By Richard Wadsworth
Thanks to sponsorship from RS Sailing the sailors were welcomed ashore by a can of chilled pop or booze in return for handing in their tally.
At our Noble Marine daily prize giving our race performers were awarded a range of goodies. Theo won a bar of Toblerone for his four bullets while Matt Carter and Richard Wadsworth each won an insulated water bottle and a cap.
Today was Hyde Sails day. At our evening party we had a sailor raffle for a brand new RS700 spinnaker generously donated by Hyde Sails. The lucky winner was Pete Purkiss.
Day four started with glorious sunshine but a rather ominous forecast in terms of wind. Upon arriving to the club the harbour was beautiful but looked like a sheet of glass; not a breath of wind. None the less the majority of the fleet were eager to leave the shore, especially some of the lighter helms eager for a low score in the light winds. The race officer had sensibly squeezed an extra race in on day three due to the forecast. However he was still keen to get a "good quality" race in. Boats were held ashore under a postponement. The wind started filling in from the South and with cumulus sitting over the land it looked like a decent thermal could contradict the forecast. This was enough for some sailors to put on wetsuits and even pull up sails. The RO was out on the water trying his best to set a course in a breeze that looked better than it was. The need to keep moving marks and gates was a sign that the wind wasn't behaving. In the end he was forced to call it a day to give competitors a chance to get on the road. So trophies and Rooster goodies were distributed in a heart-warming prize giving.

I just wanted to say how happy I am as a RS700 Class Association Chair to see nearly 30 boats at our nationals. It is so refreshing to see so many people coming to their first RS700 nationals all sharing knowledge and learning from each other. We were even able to start a bronze fleet this year which I think was greatly received. I believe the camaraderie we have in our fleet is truly unique and hard to find elsewhere. I wanted to make a special mention of Jack Napolitano winning the silver fleet and becoming an honouree gold fleet sailor. It was clear to see how much practice he has put in. Perhaps a future national champ?

Castle Cove Sailing Club really put on a spectacular show from high quality windward leeward racing, great photography and bargain priced delicious food and beer. I would go back in an instant.
Thanks to our generous sponsors Noble, RS Sailing, Hyde Sails, Rooster, Spinlock, Sea Change Wine and Fernhurst Books.

Looking to the future: for those who are feeling like they missed out well dry your eyes because we still have two more RS700 Rooster national tour events to go. First Brightlingsea Skiff Fest 2nd-3rd of October which is always a laugh with a truly special curry night on the Saturday. We also have our Inland Championship at Oxford SC 6th-7th November. I hope both of these will be well attended as our numbers are on the rise. I hope everyone got home safely and I'll see you at the next event.
By RS700 2021 National Champion Theo Galyer
Up on Y&Y here
Noble Marine RS700 2021 National Championship Prize Winners:
Youngest sailor: William Homewood from Royal Lymington YC
1st Weekend: Stephen Carr from Brightlingsea SC
Endeavour: Guy Boullenger from Chew Valley SC
Bronze Fleet: John Lawson from AC Trefort Voile
Apprentice: Nathan Steffenoni from Weston SC
Fidelis Trophy: Ian Swann from HISC
Master: Pete Purkiss from Brightlingsea SC
Silver: Jack Napolitano from Snettisham Beach SC
5th place: Matt Conner from Queen Mary SC
4th place: Richard Wadsworth from RNSA and Stokes Bay SC
3rd place: Matt Carter from Lancing SC
2nd place: Rob Higgins from Chew Valley SC
1st place and 2021 RS700 National Champion: Theo Galyer from HISC
After three weeks of sunshine and light fluky Easterly winds, Weymouth turned on the breeze for day one of the eagerly awaited Noble Marine RS800 Nationals. Possibly a bit more breeze than most of the 38 teams were expecting and possibly a tad more than most had practiced in over the past year… a solid force 5 from SSW with gusts of 24 knots whirling around Portland.
The class is really happy to be back at Castle Cove Sailing Club for their championship and has received the club's renowned warm and friendly welcome, including great bacon baps before racing and tasty come-ashore pasties afterwards. With so little racing this year, this is the first time many of the sailors have had a chance to catch up with friends and it's great to see lots of new faces joining the fleet too.
The race team, led by "Portland" Bill Barker, set a good-sized course right across the harbour. In a break with tradition, the RS800s started ahead of the RS700s to do the outer loop course, bringing a new set of challenges ("er… what do we do on a reach?"). Many sailors had sensibly got the day's capsize practice in before the first start.
Amazingly the fleet started cleanly at the first attempt, partly thanks to a nice square line and sensible use of the U-flag, partly perhaps due a little rustiness amongst the sailors. Reigning national champions Tom Morris and Guy Fillmore made a fast conservative start mid-line, next to last year's runner up Rob Gullan sailing with the current European champion crew Tom Partington. Tom and Guy tacked first to go right, a smart move which put them in a good lead by the windward mark. As predicted, the long top reach under Portland was very gusty and lully, putting several of the leading pack in for an early swim including newcomers Morgan Peach and Will Ward, who up to that point were showing great speed. Tom and Guy held their lead to the finish, chased hard by Rob and Tom, with Luke and Emma McEwen clawing through to third on the final beat ahead of Hugh Shone and Fiona Hampshire. James Penty and Eddie Grayson sailed a solid race to claim fifth despite various bits of the boat falling off on the way round.
The second and final race of the day had a third lap for good measure, great for the fleet who by now were revelling in the conditions. This time it was Rob and Tom who had the edge on the first beat, rounding ahead of Tom and Guy and keeping their cool to take the race win. Many more places changed in the chasing pack; Phil Walker and John Mather sailed a blinding run after spotting a big veering gust to pull up to third at the leeward gate, where they very generously stopped for a little dip in the refreshing waters of Portland Harbour, letting Hugh and Fiona through to another fourth behind Luke and Emma. Tom Bucktrout and Dom Burke pulled up through the fleet to a well-deserved fifth place.
Tomorrow promises even more excitement with a little more breeze forecast, three races and the possibility of a trip into Weymouth Bay.
By Emma and Luke McEwen
Day two of the Noble Marine RS800 Nationals saw three cracking races in champagne conditions. The decision was made by the race team this morning to not send us into Weymouth Bay. This proved well informed considering the building wind as the day progressed, with a lovely 20-25 knot breeze for the final race. The wind had swung round to a steady south westerly overnight meaning we got three, three lap races across the full length of Portland Harbour. The RS800 fleet has been unusually well behaved so far with not a single general recall, or U flag penalty in sight! Today was no exception with three clean starts off three great start lines from the race team.

In Race One Tom Morris and Guy Filmore, and Rob Gullan and Tom Partington, as they had done in the two races yesterday, did their trick of sailing off into the horizon leaving the rest of the pack battling it out for third. Best of the rest was Phil Walker and John Mather who seemed to be in fine form today. James Penty and Eddie Grayson followed in fourth, managing to hold off Luke and Emma McEwen to round off the top five.

Race Two saw a much closer battle for positions early on as a big bunch rounded the first windward mark together onto the almighty (and occasionally pretty sketchy) drag race that is the two sail reach. I had to check the results to find out the placings in this race as a capsize at the final gate before the finish left me thinking more about my breaststroke form then who was sailing past us. I'm reliably informed that Tom and Guy claimed the bullet again. And the usual suspects found their way into the following places: Rob and Tom took second, Hugh Shone and Fiona Hampshire took third, and Paul and Peter Jenkins with a much better day today took fourth with a solid fifth from Maria Stanley and Tom Darling.

Safety crews had to deal with Chris Feibusch's new porthole which led to a lengthy postponement before we could get Race Three underway. Crews who had got a bit chilly in the long wait were quickly warmed up as we set to it in the biggest breeze of the day. It didn't seem to matter which side of the beat you hit as long as you were sailing flat and fast and Tom and Guy once again showed us why they're defending champions as they led from start to finish. Rob and Tom sailed another fantastic race to finish second but the pack, unlike the first race of the day, were hot on their tails. James and Eddie finished off the day with a third and Castle Cove sailors Sam Pascoe and Isaac Lines closed out a solid day with a fourth and Phil and John took fifth.

A fantastic day's sailing saw Tom and Guy posting three bullets, claiming the yellow bibs and leading overnight. Fingers crossed for more good breeze tomorrow!
By Eddie Grayson
Thanks to sponsorship from RS Sailing the sailors were welcomed ashore by a can of chilled pop or booze in return for handing in their tally.
Our daily prize giving was sponsored by Noble Marine. Tom and Guy, and Rob and Tom collected insulated water bottles. Tom and Guy also collected caps, After Eight Mints and this season's smart RS Class Association UV neck sleeves for their race wins across day one and two. Thank you Noble Marine and very well Tom and Guy!
Day three was another day of being blessed with awesome Weymouth sailing conditions: sunshine and 15 knots South Westerly.
Rob Gullan and Tom Partington took off in the first race and led until the final beat when a match race with Tom Morris and Guy Filmore really took hold. There are numerous questions about whether the 2nd cross actually happened up the final beat, but the problem was that they were so caught up in each other that Hugh Shone and Fiona Hampshire sailed a blinding beat to power through from the left hand side. Things went a bit light down the last run but Hugh and Fiona held on and managed to break the monotony of the Tom/Guy and Rob/Tom show with a race win. The race for second was incredibly close with four boats rounding the leeward mark all overlapped. Out of the closely fought battle between Tom and Guy, Rob and Tom, Phil Walker and John Mather, and James Penty and Eddie Grayson, Tom and Guy snuck through to take second with Rob and Tom in third.
The left-hand side came good up the first beat of the second race, with Maria Stanley and Tommy Darling winning the pin and setting off at pace. Rob and Tom came through by the windward into first, with Hugh and Fiona in second. Despite Hugh and Fiona's best efforts at being "traffic", Tom and Guy pulled through to second and set out to catch Rob and Tom. Hugh and Fiona took third with Phil and John in fourth and James and Eddie in fifth.
In the third race, Rob and Tom turned on the accelerator and headed off into the sunset. Following were Tom and Guy, James and Eddie, and Phil and John. There was a twist in the tale however with a few obstacles catching Rob and Tom on the final run, making way for Tom and Guy to sneak through into first.
Much to the fleet's shock, there was a fourth and final race just to test how tired the crews actually were. With another three laps to contend with the only solace was that the breeze was dropping every so slightly. Rob and Tom declared themselves "lightening quick" upwind on the first beat, and took a storming victory. The first windward was rather busy with Phil and John, Maria and Tommy, Sam Pascoe and Isaac Lines, and Peter and Paul Jenkins all rounding in hot pursuit. Most boats chose to hoist slightly early on the reach of death but the fleet had to deal with a fully capsized moth (surprise surprise) bang in the middle of the reach. A few more gusts and shifts came through which caught a few people out downwind. Reportedly Peter and Paul have been taking turns to fall in, and Cameron and Darrol took a few punchy layline downwind. In the end Rob and Tom took first, with Phil and John in second, and Tom and Guy pulled through into third.
Tomorrow is shaping up to be a light wind drifter where we may well see some new faces at the front - Ralph Singleton perhaps? First and second places are wrapped up but there still a hot competition on for the rest of the places in the top ten. Congratulations to Tom and Guy, and Rob and Tom for sailing a great championship.
By Fiona Hampshire
Thanks to sponsorship from RS Sailing the sailors were welcomed ashore by a can of chilled pop or booze in return for handing in their tally.
At our Noble Marine daily prize giving our race winners were awarded a range of goodies. Race six winners Hugh Shone and Fiona Hampshire won two insulated water bottles. Race seven and nine winners Rob Gulland and Tom Partington won two caps and two limited edition RS Class Association UV neck sleeves. Tom Morris and Guy Filmore won Toblerone bars for race eight.
Today was Hyde Sails day. At our evening party we had a sailor raffle for a brand new RS800 spinnaker generously donated by Hyde Sails. The lucky winners were Chris Catt and Chris Martin.
With an extra race brought forward and sailed on Saturday, Tom Morris and Guy Fillmore had clinched the RS800 National Championships with a day to spare. In fact, with only one race remaining, second place was also wrapped up by Rob Gullan and Tom Partington and opportunities were thin on the ground for movement further down the result sheet.
As it happened the late-Summer sea breeze never stabilised sufficiently for race officer Bill Barker to attempt the tenth race. With his decision to bring the ninth forward thoroughly vindicated and a stellar championship series in the bag, an end was brought to proceedings at 1230hrs with raising of N over A on the Castle Cove flagpole.
The three hoots also allowed Fiona Hampshire to put down the match racing playbook as the final podium position was declared in her and Hugh Shone's favour. Phil Walker and John Mather, almost certainly completely unaware of the confrontation that had awaited them, remained pleased with 4th place despite just falling short of their previous best finish of 3rd in 2016. Perhaps this situation was for the best as skiffs trying to match race in 5 knots is an ungainly affair.
The morning's wait did allow some reflection on the state of play within the fleet and the building blocks of success in this enduring skiff class. Since 2017 the fleet has allowed a choice of helm (traditional) or crew sheeting. After the first day of racing murmurs circulated that the debate had finally been settled when previous deck sheeting proponents Luke and Emma McEwen turned up with the new set-up and promptly posted two third places completing an initial boom-sheeted lock out of the podium. Yet boat park chat was premature and by day three they had been replaced by Hugh and Fiona and their traditional set-up, ensuring deck sheeting retains its credentials of having always provided a podium place over the five years since the rule change.
Commenting on the techniques required to be successful with this set up Hugh said "It is always going to be harder to play the main as fluidly as crew sheeters but I think you have a really good feel for the boat because as the helm you've got the forces of the rudder in one hand and the throttle in the other so you know when things are ticking and when they are not."
Not only was Hugh first helmsheeting boat, but Fiona was won first female crew. The result marked a return to the podium for Fiona who won the champs last time they visited Castle Cove in 2015. The pairing has made good progress in the last year, something Hugh puts down to improved starting and better big breeze speed (very helpful during a series raced in 15-25 knots). "I'd say that we've improved our starting which I have always struggled with. We now have more of a routine and plan which has helped us be more proactive and less reactive to the chaos around. We didn't always have great first beats this year but we gave ourselves a better chance with cleaner starts. Last year we also fell off the pace when the wind picked up which as a fatter helm really bugged me. This time around we are using more downhaul and Fiona has developed some really helpful ways to help me focus in on achieving a flat mode and keeping it"
One undeniable benefit of crew sheeting is it opens the helm role to smaller sailors. 2021 was the fourth consecutive year with new female helm in the top ten. This year it was the turn of Maria Stanley, ably crewed by Tommy Darling. They put in a very credible performance in an older boat, with old style sails. Maria commented on their class debut: "I had a great first RS800 event, everyone was very welcoming and open to giving advice and tips, as a newcomer this was much needed! The racing was good, and the boat was great fun to sail, it was a huge learning curve for Tommy and I and thoroughly enjoyable. I'm keen to come back again next year!". If Maria can find some more time in the boat to match their impressive boat speed with more consistent manoeuvring then she will be a contender for first female RS800 champion helm. Maria and Tommy won the Spinlock 1999 Prize for first old style RS800 with sail number lower than 1118.
2021 will be remembered for its consistently breezy racing with nine hard races in full on flat wiring conditions. Adding to the challenge was a new course layout. The racing took place on a trapezoid 'outer loop' course to accommodate the RS700s' long held ambition to race pure windward leewards!
Rob Gullan and Tom Partington were undoubtedly kings of the first beat, leading to mark one in seven out of nine races, but they struggled along with many others, to pick the right line on the windy two sail reaches. "Trapezoids which had a 0.5nm two sail reach was really tricky, getting your mode right definitely helped you defend and gain places. Due to the wind strength it was easy to be blown below the rum line as boats could easily spin out when being brought back up through the death zone during gusts" commented reigning European Champion crew Tom. He also saw big gains to be made at the widely separated leeward gates during the week. "Typically, the leeward gate was quite wide with one mark significantly favoured. It was always worth going for the favoured side even if it meant an extra gybe, which due to wind strength, did make you think is it worth it from a being safe perspective".
With such a good performance on the opening legs we asked Tom where he thought Morris and Fillmore had found their edge. "I think the real separator was time in the boat. Although we had very good boat speed at times, we would have times where we would struggle. Ultimately, we were unable to match the well-oiled machine of Tom and Guy around the racecourse when under pressure. It always felt they were in a position to capitalise on a mistake, whilst we kept waiting for them, but even when they lost their tiller (race three) and again their trapeze line (race six), they would manage to survive what we could throw at them."
2021 was the third title for Tom and Guy and with nine races in 15-24 knots many would have been unsurprised to find them at the top of the leader board in their favoured conditions. Yet over nine races Gullan and Partington really brought the fight, and the match up was tight.
Guy believed some of their edge was born out of regular club sailing. "It sounds maybe a bit far-fetched, but I genuinely think the time spent club racing on varied courses allowed us to adapt quicker to the new reaching legs. Gullan and Tom (Partington) were often leading at mark one, but we knew if we could close the gap on the reach, we stood a good chance of putting pressure on their gybes on the run".
Morris places the difference in the hands of his crew, the defending champions have been prone to calamities at previous events yet with a bit more experience this time they were able to avoid high scores when things did not go their way. "We've had races in the past where something broke and the event imploded for us. This year Guy really took control in those moments. In race three we lost the port tiller extension whilst leading, but Guy was able to retrieve the spare and attach it without us losing a place. Then in race six my starboard trapeze wire broke whilst again leading with a lap to go. Guy steadied the boat, got us on to port and it allowed us some time to assess how we were going to adapt our set up and strategy with only one person wiring on starboard. We did lose a position to Hugh and Fiona but were able to keep Rob and Tom behind and that ultimately won us the regatta.".
The RS800 Class Association would like to thank Castle Cove Sailing Club and their race team. Their hospitality made up from purely volunteers was first class.
The event was also bolstered by the support of Championship sponsors: Noble Marine, RS Sailing, Hyde Sails, Rooster, Spinlock, Sea Change Wine and Fernhurst Books.
Our next event is RS800 Rooster National Tour event number seven the Inland Championship at Grafham Water SC 2-3 Oct. The eighth and final event of the tour will be the RS End of Seasons Regatta at Rutland SC 6-7 Nov. We look forward to seeing you on the water.
By RS800 2021 National Champion helm Tom Morris
Noble Marine RS800 2021 National Championship Prize Winners:
1st Weekend: Sam Jones and Richie Thurlby from Hillhead SC
Endeavour: Stephen Brown and Philip Bairstow from Ullswater YC
1st Youth Helm: Cameron Moss from Lyme Regis SC
1st Youth Crew: Isaac Lines from Castle Cove SC
1st Master Helm: Luke McEwen from Royal Lymington YC
1st Master Crew: Emma McEwen from Royal Lymington YC
1st Lady Helm: Maria Stanley from HISC
1st Lady Crew: Fiona Hampshire from Swanage SC
1st Silver: Joe Joyner and James Wallace from Lyme Regis SC
Spinlock 1999 Prize: Maria Stanley and Tom Darling from HISC
6th place: Luke and Emma McEwen from Royal Lymington YC
5th place: James Penty and Eddie Grayson from Beaver SC
4th place: Phil Walker and John Mather from HISC
3rd place: Hugh Shone and Fiona Hampshire from Swanage SC
2nd place: Rob Gullan and Tom Partington from HISC
1st place and 2021 RS800 National Champions: Tom Morris and Guy Fillmore from HISC
Up on Y&Y here
RS700
Rank
Sail
Number
Selec
tors
Helm
Club
Race
1
Race
2
Race
3
Race
4
Race
5
Race
6
Race
7
Race
8
Race
9
Net
Pts
1
1063
G
Theo Galyer
Hayling Island SC
(1)
1
1
(3)
1
1
1
1
1
7
2
1029
G
Rob Higgins
Chew Valley Lake SC
2
2
(3)
1
2
(29/DNC)
2
2
2
13
3
1062
G
Matt Carter
Lancing SC
(6)
3
2
2
(7)
2
3
4
4
20
4
720
G
Richard Wadsworth
RNSA/ Stokes Bay SC
(7)
5
4
(6)
4
3
4
3
3
26
5
1060
G
Matt Conner
Queen Mary SC
(16)
4
5
4
3
4
6
6
(7)
32
6
1042
G
Pete Purkiss
Brightlingsea SC
4
6
6
5
6
5
(7)
5
(9)
37
7
88
S
Jack Napolitano
Snettisham Beach SC
3
8
(13)
11
(29/DNC)
7
5
7
8
49
8
1061
G
Andy Wright
Queen Mary SC
(14)
(13)
8
7
5
9
8
9
6
52
9
710
S
Nathan Steffenomi
Weston SC
(29/DNC)
(29/DNC)
14
13
9
11
9
10
5
71
10
1022
G
Ian Swann
Hayling Island SC
(19)
12
7
8
8
16
(19)
8
12
71
11
1068
S
Roland Smith
Hayling Island SC
8
15
9
15
10
13
10
(17)
(16)
80
12
1067
S
Simon Hamilton
Queen Mary SC
9
11
12
14
(15)
10
11
15
(18)
82
13
926
S
Simon Clark
Lyme Regis SC
15
10
10
9
11
14
15
(29/DNC)
(29/DNC)
84
14
859
S
Peter O'nions
Draycote Water SC
(17)
7
16
(19)
17
12
13
13
11
89
15
765
S
James Clark
Chew Valley SC
12
16
(20)
17
12
(20)
14
14
10
95
16
1035
S
William Homewood
Lymington Town SC
(18)
17
11
(18)
13
15
12
12
15
95
17
1020
S
Stephen Hermanson
Queen Mary SC
11
(29/DNC)
(18)
12
18
8
17
16
17
99
18
931
S
Malcolm Streeton
Hayling Island SC
13
14
17
16
(29/DNC)
19
(20)
20
14
113
19
836
S
Phillip Highfield
Great Yarmouth and Gorleston SC
5
9
(29/DNC)
10
(29/DNC)
6
29/DNC
29/DNC
29/DNC
117
20
798
S
Guy Boullenger
Chew Valley SC
10
18
(21)
(21)
16
17
21
21
19
122
21
871
S
Curtis Drew
Goulston SC
21
(29/DNC)
15
(22)
14
18
18
18
22
126
22
1041
S
Simon Hawes
Queen Mary SC
20
(29/DNC)
19
20
(29/DNC)
29/DNC
16
11
13
128
23
851
B
John Lawson
A.C. Treffort Voile
(29/DNC)
(29/DNC)
22
29/DNC
29/DNC
24
23
22
21
170
24
801
B
Stephen Carr
Brightlingsea SC
(29/DNC)
(29/DNC)
29/DNC
24
29/DNC
22
25
24
20
173
25
882
B
Peter Atkinson
Lee on Solent SC
(29/DNC)
(29/DNC)
29/DNC
23
29/DNC
23
22
19
29/DNF
174
26
961
B
Stephen Keating
Datchet Water SC
(29/DNF)
(29/DNF)
29/DNC
29/DNC
29/DNC
25
24
23
23
182
27
846
B
Ashley Strong
Oxford SC
(29/DNC)
(29/DNC)
29/DNC
25
29/DNC
21
29/DNC
29/DNC
29/DNC
191
28
1039
B
Charles Russell
Mounts Bay SC
(29/DNC)
(29/DNC)
29/DNC
29/DNC
29/DNC
29/DNF
29/DNC
29/DNC
29/DNC
203
RS800
Rank
Sail
Number
Selec
tors
Helm
Crew
Club
Race
1
Race
2
Race
3
Race
4
Race
5
Race
6
Race
7
Race
8
Race
9
Net
Pts
1
1144
G
Tom Morris
Guy Filmore
Hayling Island SC
1
(2)
1
1
1
2
2
1
(3)
9
2
1124
G
Robert Gullan
Tom Partington
Hayling Island SC
(2)
1
2
2
2
(3)
1
2
1
11
3
1231
G
Hugh Shone
Fiona Hampshire
Swanage SC
4
4
(6)
3
(6)
1
3
5
5
25
4
1207
G
Phil Walker
John Mather
Hayling Island SC
6
(9)
3
(9)
5
4
4
4
2
28
5
1171
G
James Penty
Eddie Grayson
Beaver SC
5
6
4
(13)
3
5
5
3
(39/DNC)
31
6
1220
G
Luke McEwen
Emma McEwan
Royal Lymington YC
3
3
5
(10)
(10)
10
8
8
4
41
7
1232
G
Cameron Moss
Darrol Moss
Lyme Regis SC
8
8
9
6
8
9
13
(15)
(17)
61
8
1222
G
Paul Jenkins
Peter Jenkins
Eastbourne SC
(26)
23
7
4
9
6
7
7
(26)
63
9
1122
G
Tom Bucktrout
Dominick Burke
Grafham Water SC
11
5
(14)
12
12
13
11
(21)
7
71
10
842
GL
Maria Stanley
Tom Darling
Hayling Island SC
(39/DNC)
(39/DNS)
8
5
7
7
6
6
39/DNC
78
11
1203
GL
Grace Fell
Tim Gratton
Beadnell SC
7
13
11
15
11
11
12
(28)
(16)
80
12
1194
S
Joe Joyner
James Wallace
Lyme Regis SC
16
(20)
15
14
13
(18)
9
10
9
86
13
1224
S
Frederick Lord
Louise Gale
Carsington SC
(22)
7
13
18
(20)
15
15
12
11
91
14
954
S
Morgan Peach
Will Ward
Clapham Model YC
13
18
19
16
(39/DNC)
12
(39/DNC)
9
14
101
15
1138
GL
Honor Fell
Robbie Gilmore
Queen Mary SC
10
15
20
(22)
18
14
(24)
13
12
102
16
1247
S
Paul Molesworth
Jason Rickford
Weymouth SC/ Stokes Bay SC
18
11
(23)
(23)
23
16
18
11
8
105
17
1131
G
Chris Weber
Jim Baldwin
Pevensey Bay SC
20
24
16
8
(26)
23
10
(27)
6
107
18
1200
G
Sam Pascoe
Isaac Lines
Castle Cove SC
(39/DNC)
(39/RET)
12
7
4
8
16
23
39/DNC
109
19
1157
G
Chris Catt
Chris Martin
Netley Sailing Club
9
17
17
(25)
15
(20)
20
20
19
117
20
885
G
Chris Feibusch
Andy Ramus
Hayling Island SC
24
16
10
11
(39/DNC)
(26)
25
17
15
118
21
1204
G
Martin Orton
Ian Brooks
Chichester YC and Trearddur Bay YC
12
10
(22)
21
(39/DNC)
22
14
18
22
119
22
1166
S
Ralph Singleton
Simon Conway
Restronguet SC
15
19
(24)
19
16
21
21
14
(23)
125
23
1058
G
Joe Bradley
Rhys Lewis
RS Sailing / Hayling Island SC
19
14
18
17
14
17
27
(39/DNC)
(39/DNC)
126
24
1128
S
Josh Adams
Jon Crawford
Lyme Regis SC
21
12
28
(39/DNF)
21
(39/DNC)
31
16
18
147
25
1057
S
Mark Oakey
Jamie Pidduck
Hayling Island SC
17
22
21
(27)
17
(25)
22
25
24
148
26
1241
S
Stephen Brown
Philip Bairstow
Ullswater YC
27
21
25
20
22
(32)
28
(32)
20
163
27
985
S
Stuart Keegan
Sophie Johnston
Derwent Reservoir SC
14
(39/DNS)
31
(39/DNC)
24
29
29
19
21
167
28
820
S
Bryan Ormond
Anna Prescott
Queen Mary SC
(39/DNC)
26
27
(30)
19
28
26
26
27
179
29
1129
S
Sam Jones
Richie Thurlby
Hillhead SC
(39/DNC)
(39/DNS)
39/DNC
39/DNC
39/DNC
19
19
24
10
189
30
1008
G
Ben Palmer
Bruna de Queiroz
Hayling Island SC
(39/DNC)
(39/DNS)
26
24
25
39/DNC
23
30
25
192
31
1156
G
Hugh Brayshaw
Mary Rook
Queen Mary SC
(39/DNC)
(39/DNS)
39/DNC
39/DNC
39/DNC
24
17
22
13
193
32
1182
S
Richard Powell
Will Schofield
Locks SC
23
25
(39/DNC)
(39/DNC)
39/DNC
30
33
31
39/DNC
220
33
1188
LS
Debbie Clark
Daniel Goodman
Queen Mary SC
(39/DNC)
27
29
29
(39/DNC)
31
34
33
39/DNC
222
34
982
S
Toby Bloomfield
Robin Stein
Paignton SC / Hayling Island SC
(39/DNC)
(39/DNS)
39/DNC
39/DNC
39/DNC
27
30
29
28
231
35
846
S
Joshua Poat
Hattie Field
Chew Valley SC
25
(39/DNS)
(39/DNC)
26
39/DNC
34
32
39/DNF
39/DNC
234
36
913
S
Adrian Howe
Fenella Williams
Hayling Island SC
(39/DNC)
(39/DNS)
30
28
39/DNC
33
35
39/DNC
39/DNC
243
37=
1198
S
Alex Benfield
Nick Ireland
Stokes Bay SC
(39/DNC)
(39/DNS)
39/DNC
39/DNC
39/DNC
39/DNC
39/DNC
39/DNC
39/DNC
273
37=
1221
S
Nick Redding
TBC
Hayling Island SC
(39/DNC)
(39/DNS)
39/DNC
39/DNC
39/DNC
39/DNC
39/DNC
39/DNC
39/DNC
273