Results / Weston Warm-up Weston SC - 16/07/2022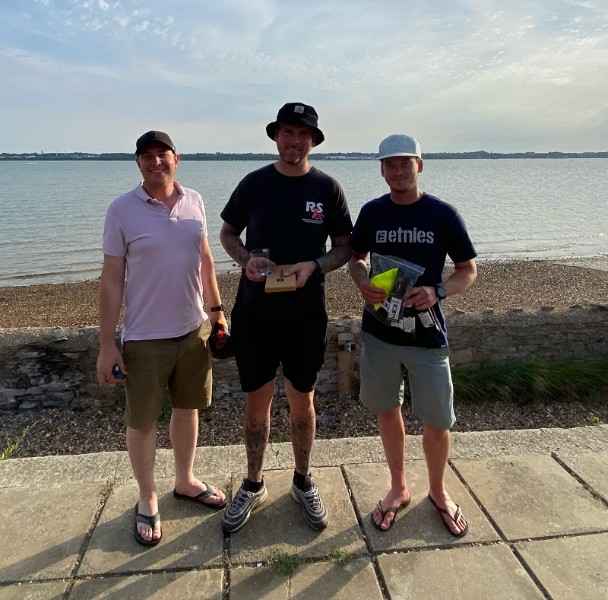 Weston Warm-Up 16-17 July 2022, Rooster RS700 National Tour Event Number Three
We were all greeted at Weston SC by Nathan Steffenoni and a forecasted light breeze on Saturday morning ahead of three planned races each day. With a 1pm start and temperatures high, the thermal kicked in and by the time we got to race one, there was a lovely 10-12 knots and building across the course. All lined up for start with some new faces to the fleet getting stuck straight in. Race one went off clean, with James Clark leading around the first mark closely followed by Rob Higgins, John Booth and Theo Galyer. Some close racing and the Bristol bandits speed saw Rob taking the lead at the bottom mark with James and John just behind. Theo and the fleet were close behind by the top of the next beat and some serious light wind speed from newcomer John saw him slip into 2nd closing on Rob giving him a real run for his money. This is how it finished with James following with Theo leading the fleet behind jostling for position. A close race with some new faces at the top of the fleet.
Race two started in an increasing breeze giving Theo a chance to swing her down and get out his superior upwind speed. Challenging for the front, he took an early lead, even with Rob hot on his heals pushing him at every opportunity. James and John had a close race just behind with Local Legend Nathan, who came in with a solid fifht as we got to the end of a second short sprint race.
As the breeze built to a steady 17-18kts, race three got under way with a longer race planned, and Theo and Rob getting into a battle for the comity boat end. Matt Conner and the fleet took this opportunity to challenge for the top, with some close racing up the first beat had by all. At the top of the course, Theo had flown through the fleet, and some skilled racing from Rob saw him in second closely followed by a pack of boats. James had a swim round the top mark and so gave Matt, Nathan and John a clear path for third. With Matt enjoying the increasing breeze, he kept a solid third by the end with Theo taking a second bullet of the day, closely followed by Rob. A few swims later saw the fleet follow in behind Nathan and John to conclude a great first day's racing.
Day two came following on from a great evening laid on by Nathan and the team at Weston with curry, beer, more sun and lots of chat of the day. We had another glam day ahead and with an increasing SE breeze saw 14-18 kts on the racecourse. We started a little later on a high tide ready for another great day's racing.
Race four saw a clean start by all with James taking the lead around the top mark closely followed by Theo, Rob, Matt and some serious upwind pace from our resident French sailor, Guy Boullenger, following closely behind round the top mark. Rob and Theo's superior downwind speed saw them both ahead by the bottom mark closely followed by the pack minus a few wobbles downwind. The race ended with Theo pushing hard upwind to give him the win, followed by Rob, and a close battle for third between James and Matt to the line. Guy and Nathan had a close race coming in just behind in fifth and sixth.
Race five quickly came about with similar conditions. Everyone had another consistent start so we again had to push to keep up with Theo and Rob, closely followed by James and Matt battling it out for third and fourth, with John Booth, Curtis Drew (who was back on form) and John Lawson all having a great race to finish in fifth, sixth and seventh respectively.
The final race of the weekend was in a slightly dying breeze. Theo pushed hard from the start, but he kept calm and continued his winning streak to take the last one. Once again, a close race was had by all and most moving up the fleet saw James taking a second and Matt following just behind. Guy had another storm of a race to take another fifth to finish the weekend off. This saw Theo take the win for the weekend with Rob close on points behind in second and James taking third.
A brilliant weekend had by all. Thanks to Nathan and the Weston team for some brilliant hospitality. We look forward to next year and hope to see all at what promises to be an epic Europeans and Noble Marine Nationals in 2 week's time at the RS Games at Weymouth and Portland National Sailing Academy.
Report by James Clark
Up on Y&Y here
Weston SC 2022 RS700 Open
RS700 Open
Sailed: 6, Discards: 1, To count: 5, Rating system: PY, Entries: 11, Scoring system: Appendix A
Rank
SailNo
HelmName
R1
R2
R3
R4
R5
R6
Total
Nett
1st
1063
Theo Galyer
-4
1
1
1
1
1
9
5
2nd
1029
Rob Higgins
1
2
2
2
2
(12.00 DNC)
21
9
3rd
765
James Clark
3
3
-6
3
3
2
20
14
4th
1060
Matt Conner
6
-7
3
4
4
3
27
20
5th
903
John Booth
2
4
5
-9
5
4
29
20
6th
798
Guy Boullenger
5
6
7
5
-10
5
38
28
7th
710
Nathan Steffenoni
7
5
4
6
-8
6
36
28
8th
871
Curtis Drew
8
(12.00 DNC)
11
7
6
7
51
39
9th
851
John Lawson
9
8
9
-11
7
8
52
41
10th
909
Chris Wright
-10
9
8
10
9
9
55
45
11th
801
Steve Carr
(12.00 DNF)
10
10
8
12.00 RET
12.00 DSQ
64
52