Results / RS700 Inland Championship Oxford SC - 06/11/2021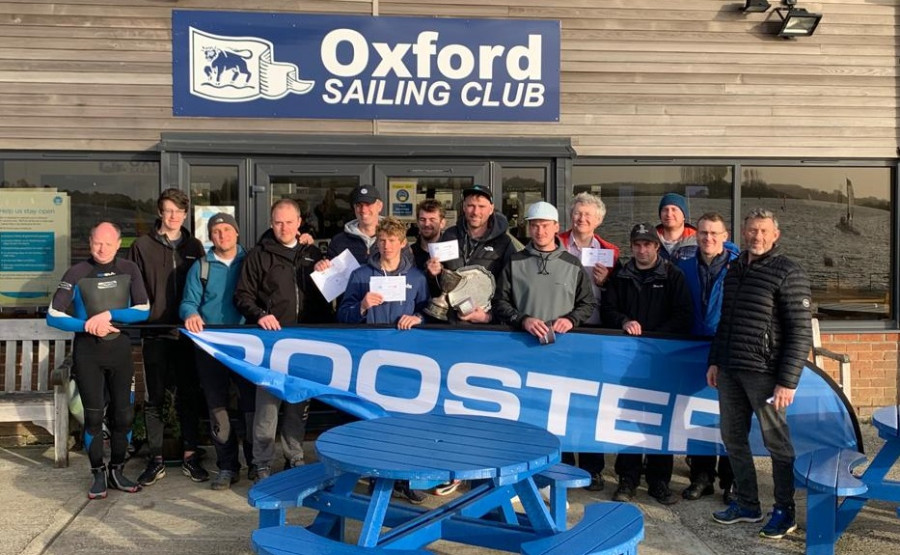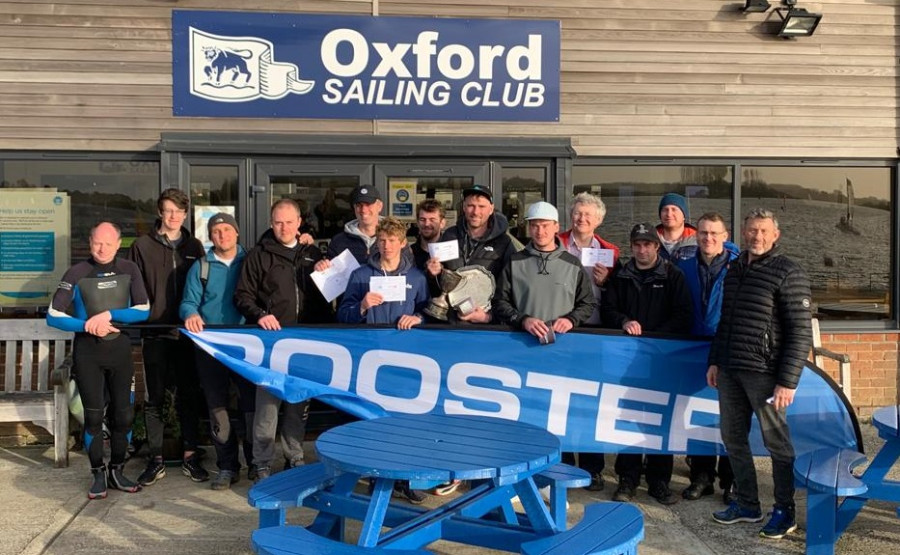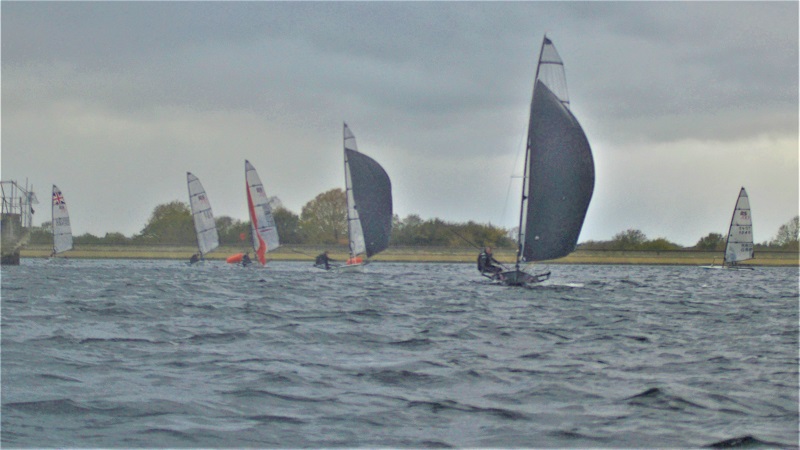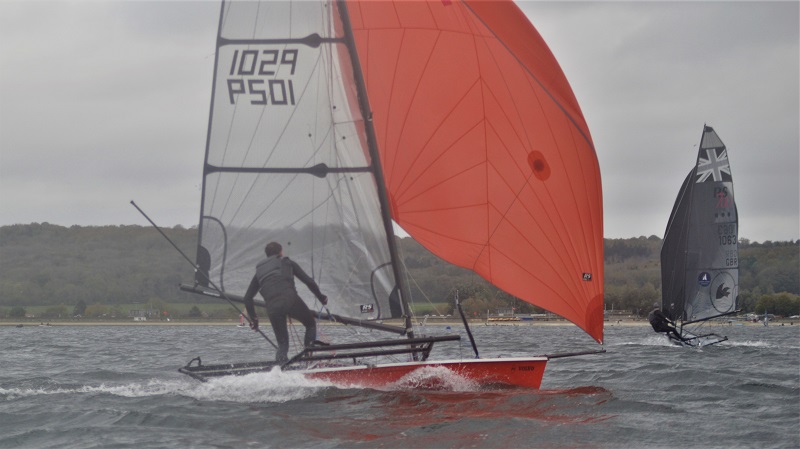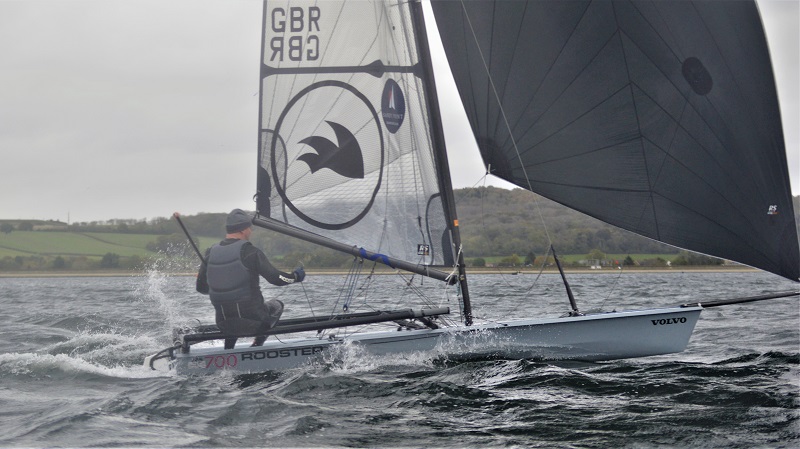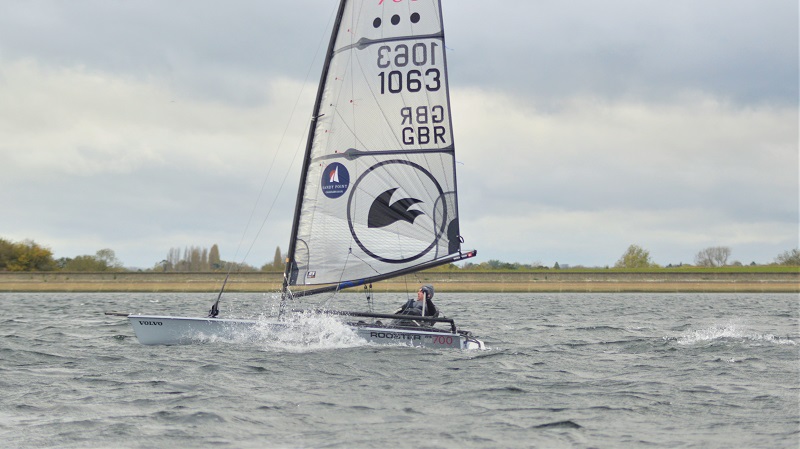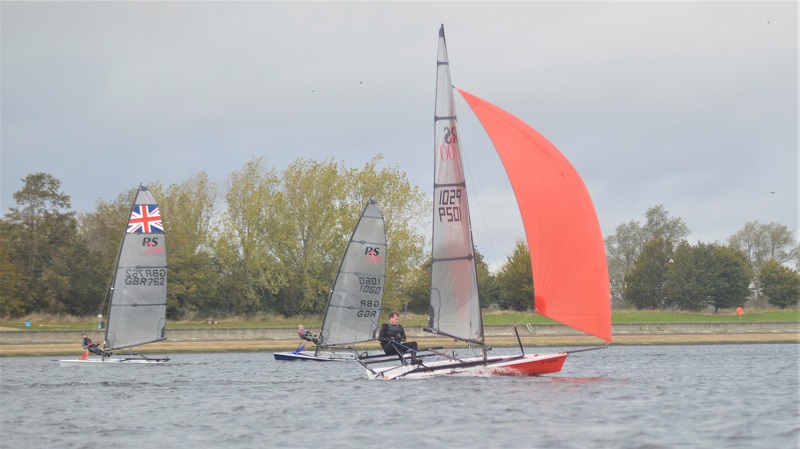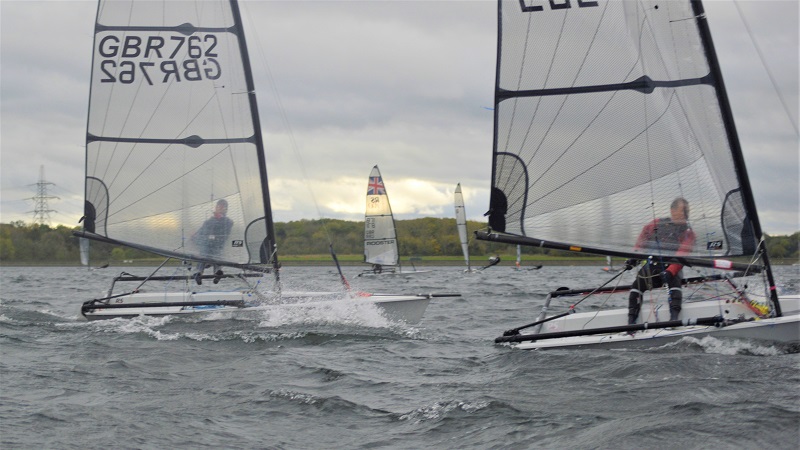 CONGRATULATIONS TO YOUR 2021 RS700 INLAND CHAMPION THEO GALYER
RS700 Inland Championship at Oxford SC 6-7 Nov 21, final event on Rooster RS700 National Tour
Day One
The fleet arrived at Oxford SC for day one of the RS700 inlands to be greeted by rain and a strong breeze. The rain quickly went away, which was nice, and so off the fleet went to see if the gusts were as interesting as they looked.
So race one: Rob Higgins shot off from the port end to lead at the first mark with Theo Galyer close behind. A gaggle of boats rounding close together after the lead two. This would be a theme for the day. Theo worked his way through on the downwind to take the win with Rob close behind. Phil Highfield came though the pack to take third.
White horses were now all over the water. Rob and Theo took the opportunity between races for a speed challenge. Rob took the bragging rights by 0.4 of a knot at a speed of 19.4 knots.
Many of the fleet took this as a chance to practise their capsize recovery.
Race two: Theo nailed the start to lead from Rob, finishing in that order. Behind the gusts and shifts were causing chaos, several boats looked good then stopped for a quick dip. William Homewood, lightest in the fleet, was looking good for 3rd till a huge gust only a couple of boat lengths from the line resulted in a swim allowing Phil to sneak though. Will recovered quickly for 4th.
Race 3: the usual suspects were 1st and 2nd. Theo took the lead when both boats tea-bagged in a shift. Behind, Matt Conner fresh from the re-rigging his spinnaker was travelling fast in 3rd. The lead 2 pulled away with Theo taking his 3rd bullet and Rob another second. Matt's upwind pace allowed him time for a quick capsize to take 3rd.
It was an exciting day with some big wind. Theo leads overnight from Rob and Phil. Some excellent performances from William to finish the day in 4th overall. Curtis Drew got his best result to date with a 5th in race two.
A big thank you to the race team and the rescue boats we kept busy.
With another day to come it's time for the fleet to head to the pub to prepare themselves.
Report by Phillip Highfield
Day Two and Rooster National Tour Final Positions
After a tough day one the entire fleet enjoyed a dinner together at a local pub, swapping stories of the day's events as well as tips and advice for was for predicted to be more of the same for day two.
With a forecast of 16-25 knots from the North West there was a definite chill in the air as the fleet gathered. There was hope that a change in direction might result in a slightly more stable wind pattern. That hope was soon to be dashed.
Race One started cleanly and on time and utilised the full length of the reservoir. The fleet split early on the first beat, with those opting for left side gaining advantage from a swinging and dropping breeze. As was the case in the previous day the wind at the windward mark was very patchy and shifty as it came over the landscape. It was Rob Higgins who made it round first, with Colin Dacey in close behind leading a tight bunch coming in from port. Rob looked back with a grin from ear to ear as he saw Theo capsize to windward as he got caught out by a shift whilst pinching for the mark. With three laps to catch up the places, Theo looked pretty determined to do so. Lots of place changing occurred throughout the fleet, with laylines and favoured sides inconsistent. In the end Rob held through for the win with Colin Dacey second, and Theo Galyer recovering to pick up a third.
The race officer reset the windward mark for race two, with the wind having swung 20 degrees and filled back into its forecast levels. Another clean start and again a split fleet up the first beat. At first left paid but then fortunes favoured and those on the right got lifted back. Theo was first round the mark with Matt Conner on his tail, and Rob Higgins next to follow. With some big gusts now coming through the front three built up a decent gap, with Rob squeezing through to second place on the 3rd lap after some gybing masterclasses. After four laps Theo was back in winning ways, Rob Higgins second, Matt Conner just behind to take third, and a fast-charging Colin Dacey having made up some good ground downwind to come in fourth.
The same course held for the third and final race of the day. For the first time of the event, we had an individual recall as the fleet pushed up for a fast start on a relatively short line. The unnamed offender did the right thing and rounded the pin to start correctly.
With the wind was now consistently hitting high 20s in short, powerful gusts, making smooth progress upwind and down was a challenge across the fleet. First to reach the windward mark was Theo Galyer, then Matt Conner. Close behind were Colin Dacey and William Homewood, in the battle of youth versus experience. In the chasing pack battles remained alive with plenty of places gained and lost as tired arms couldn't react fast enough to the conditions. In that respect few were disappointed to see the shortened course flag go up to drop us to a three lap finish. Over the line first was Theo Galyer with Matt Conner mere seconds behind. Colin Dacey finished the day with another strong result, showing experience matters as Will was left swimming somewhere up the run to allow Phill Highfield and a few other through too.
The fleet regrouped for prize-giving to recognise another convincing win for Theo who adds Inland Champion to his earlier Nationals win. Rob Higgins takes second place and Matt Conner moved up to third, ahead of Phil Highfield in fourth and Colin Dacey in fifth. It was an excellent event with good tight racing in somewhat challenging conditions. The fleet would like to thank Oxford SC for such a warm welcome and well-run event and Rooster for supporting the fleet with great prizes and, of course, some of the finest sailing apparel in the market.
Once again, the RS700 has shown what a versatile platform it provides, with top four results being consistently taken by sailors in their teens and their 60ss, with weights ranging from under 60kg to over 100kg and speeds recorded close to 20 knots!
As this event wraps up our year the prize-giving moved on to award the Rooster RS700 National Tour places, with sailors counting their top 3 results.
Theo Galyer wins the Rooster RS700National Tour
Rob Higgins takes second
Pete Purkiss sneaks in at third
On equal points, but taking fourth slot, is Matt Conner
And Roland Smith picks up the last of the very generous Rooster vouchers for fifth place.
First RS700 youth prize goes to William Homewood.
See the full Rooster RS700 National Tour results here
We've seen lots of new faces this year with good attendance at events, despite some Covid restrictions still in place. We look forward to welcoming even more sailors next year and doing it all again.
Report by Matt Conner
Up on Y&Y here
RS700 Inlands 6th & 7th November 2021
Oxford SC
Results are final as of 22:15 on November 7, 2021
Sailed: 6, Discards: 1, To count: 5, Entries: 17, Scoring system: Appendix A
Rank
SailNo
HelmName
Club
R1
R2
R3
R4
R5
R6
Total
Nett
1st
1063
Theo Galyer
HISC
1
1
1
-3
1
1
8
5
2nd
1029
Rob Higgins
Chew Valley SC
2
2
2
1
2
(18.0 DNC)
27
9
3rd
1060
Matt Conner
Queen Mary SC
6
(18.0 DNF)
3
6
3
2
38
20
4th
836
Phil Highfield
Great Yarmouth & Gorleston YC
3
3
4
7
-10
4
31
21
5th
1027
Colin Dacey
Snettisham Beach SC
-10
6
9
2
4
3
34
24
6th
1035
William Homewood
Queen Mary SC
4
4
5
4
-7
7
31
24
7th
1046
Miles Roebuck
Oxford SC
7
7
6
-9
6
6
41
32
8th
762
Richie Thurlby
Hill Head SC
(18.0 DNF)
9
8
5
5
18.0 DNF
63
45
9th
765
James Clark
Chew Valley
5
8
7
10
(18.0 DNC)
18.0 DNC
66
48
10th
710
Nathan Steffenoni
Weston SC
9
(18.0 DNC)
18.0 DNC
12
8
5
70
52
11th
1068
Roland Smith
HISC
8
10
(18.0 DNF)
8
9
18.0 DNC
71
53
12th
909
Chris Wright
Filey SC
(18.0 DNF)
11
10
14
11
8
72
54
13th
871
Curtis Drew
Great Yarmouth & Gorleston YC
(18.0 DNF)
5
18.0 DNC
11
18.0 DNC
18.0 DNC
88
70
14th
846
Ashley Strong
Oxford SC
(18.0 DNF)
18.0 DNF
18.0 DNF
13
12
18.0 DNC
97
79
15th
1042
Pete Purkiss
Brightlingsea SC
(18.0 DNC)
18.0 DNC
18.0 DNC
18.0 DNC
18.0 DNC
18.0 DNC
108
90
15th
1041
Simon Hawes
Queen Mary SC
(18.0 DNC)
18.0 DNC
18.0 DNC
18.0 DNC
18.0 DNC
18.0 DNC
108
90
15th
1067
Simon Hamilton
Queen Mary SC
(18.0 DNC)
18.0 DNC
18.0 DNC
18.0 DNC
18.0 DNC
18.0 DNC
108
90
Sailwave Scoring Software 2.25.10
www.sailwave.com