Results / Shoreham SC - 02/09/2023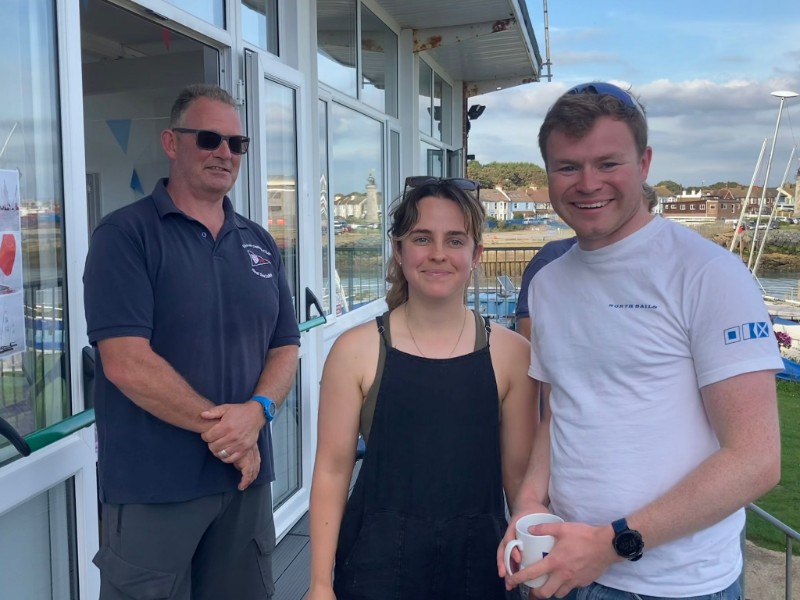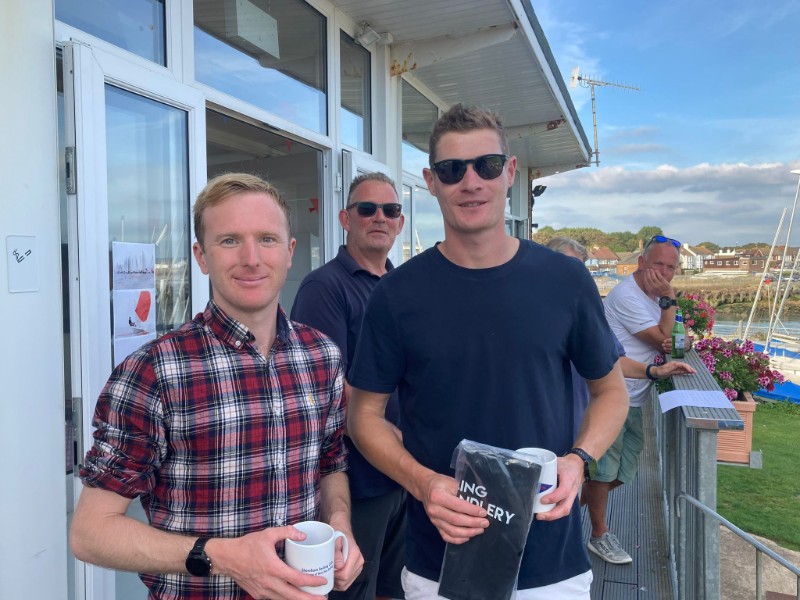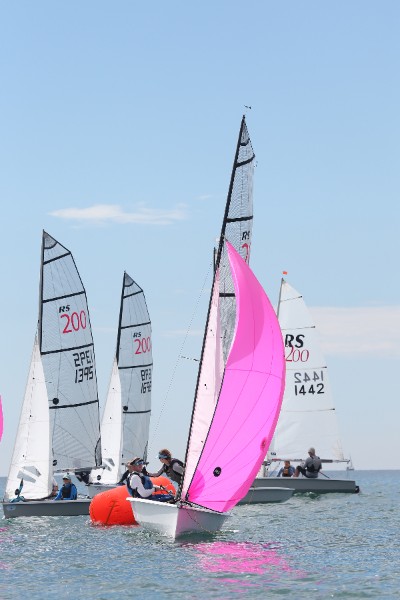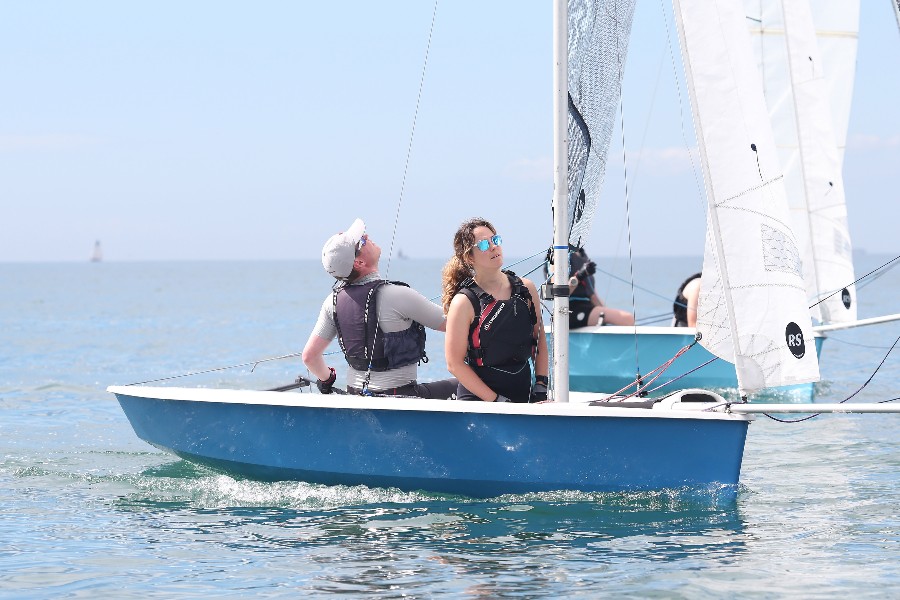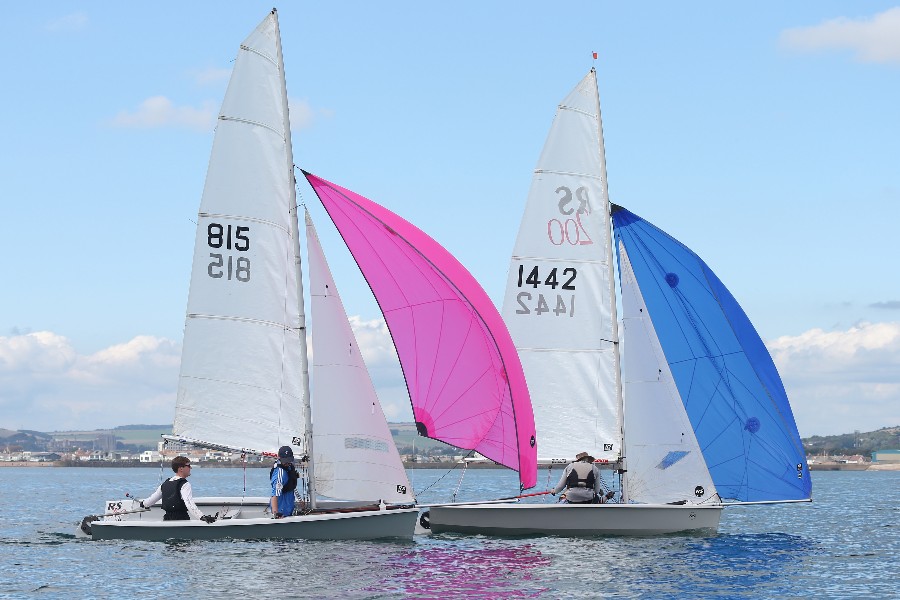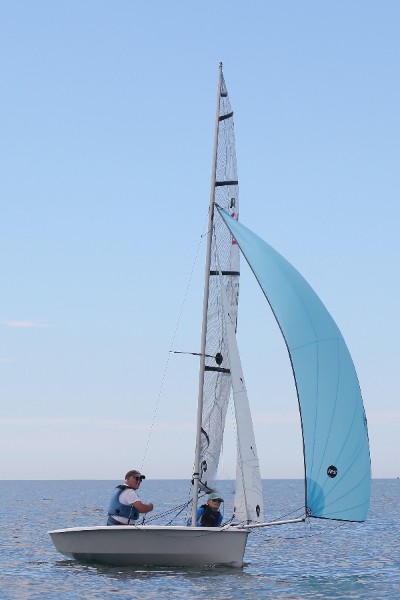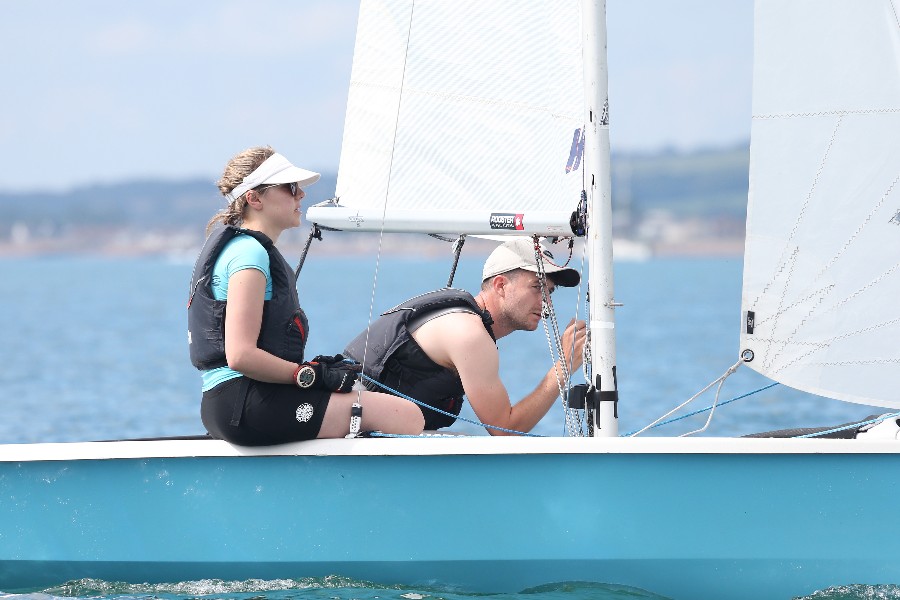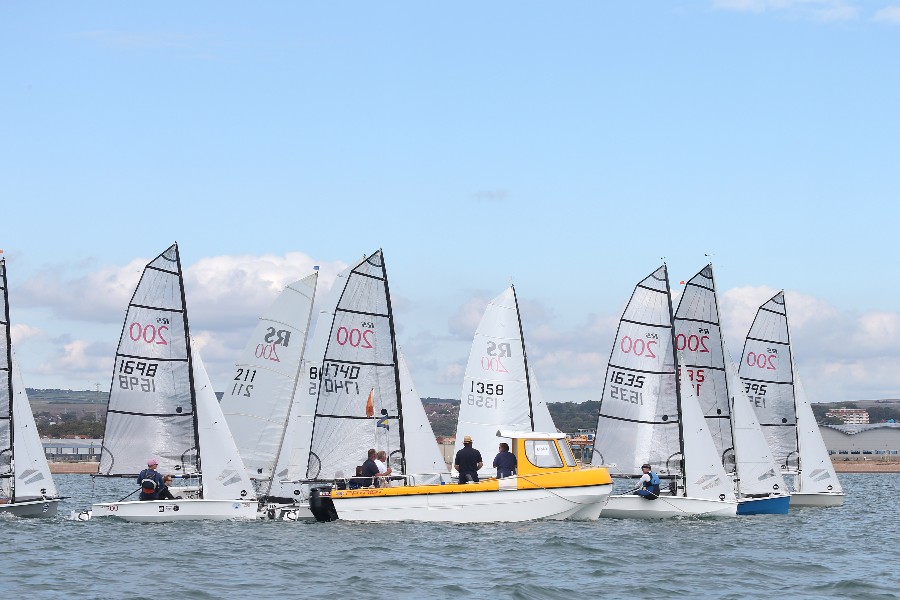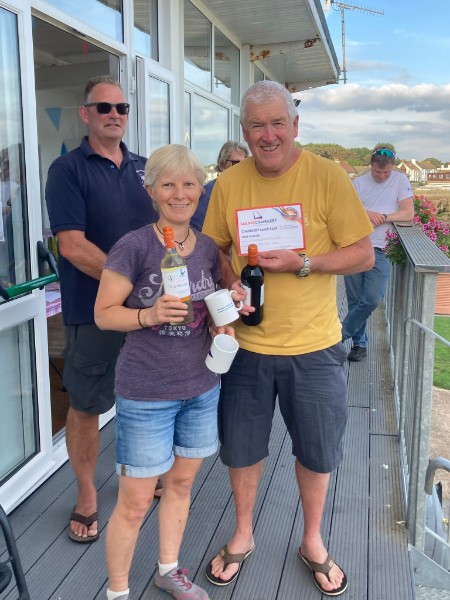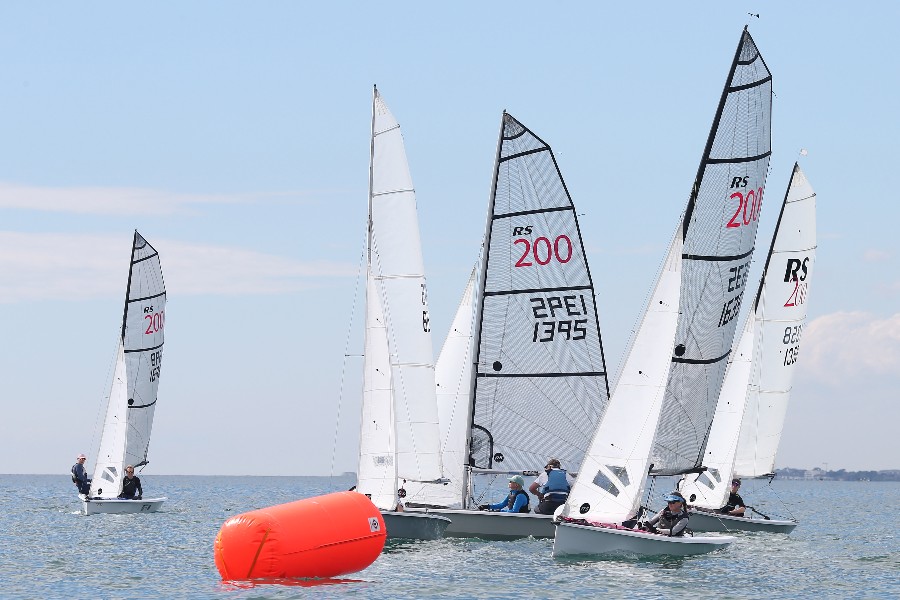 RS200 Sailing Chandlery EaSEA Tour at Shoreham
2nd September 2023
By Richard Thomas
Ten RS200s arrived at Shoreham SC for the latest instalment of the EaSEA Tour. There was plenty of sun but not much wind, and with a strong spring tide running the fleet settled in for a long delay ashore. But the race officer had other ideas and got us launched after only a short postponement, with several boats being towed out of the harbour. It turned out the race officer knew what he was doing, with a light but solid breeze filling in allowing us to go racing.
James Morson & Fiona Harrington and Andrew Wishart & Nina Luckmann got away early in the first race and never looked back, with James Fiona taking the win. Tom Goodey & Richard Thomas followed in third.
Following a short delay as the wind swing left, Nigel Bird & Andy Bird found their speed. There seemed to be more wind out to sea, and finding the extra breeze offshore generally paid despite beating into the tide. Nigel Andy took two race wins, with Andrew Barnett & Lynne Radcliffe coming second in race two. Andrew/Nina's consistency showed with a third and a second.
The final race was a single lap held in dying breeze. Mark Oakey & Jess Smith found what little wind there was and rounded the windward mark first. They held their lead all the way to the finish. A few boats were in danger of drifting past the leeward gate. Tom/Richard dropped their spinnaker early and just managed to sneak past Andrew Nina on the downwind. That ensured that Nigel and Andy just won a very close event on countback, with Andrew/Nina second and Tom/Richard third.
A huge thank you to Shoreham SC, who both made the fleet incredibly welcome and somehow managed to get all the scheduled racing in on a difficult day for the race officer.
The final event of this year's Sailing Chandlery EaSEA Tour is the inlands at Grafham on 30th September – 1st October. Online entry is open here.
RS200 Sailing Chandlery EaSEA Tour
Shoreham Sailing Club
Results are final as of 18:00 on September 2, 2023
Overall
| Rank | SailNo | Club | HelmName | CrewName | R1 | R2 | R3 | R4 | Total | Nett |
| --- | --- | --- | --- | --- | --- | --- | --- | --- | --- | --- |
| 1st | 1395 | RYA | Nigel Bird | Andy Bird | (9.0) | 1.0 | 1.0 | 5.0 | 16.0 | 7.0 |
| 2nd | 1295 | Queen Mary SC | Andrew Wishart | Nina Luckmann | 2.0 | (3.0) | 2.0 | 3.0 | 10.0 | 7.0 |
| 3rd | 1698 | RNSA | Thomas Goodey | Richard Thomas | 3.0 | (8.0) | 3.0 | 2.0 | 16.0 | 8.0 |
| 4th | 211 | WWSC/SBSC | James Morson | Fiona Harrington | 1.0 | 4.0 | (7.0) | 4.0 | 16.0 | 9.0 |
| 5th | 1635 | Island Barn SC | Andrew Barnett | Lynne Radcliffe | 5.0 | 2.0 | 4.0 | (11.0 DNC) | 22.0 | 11.0 |
| 6th | 1740 | Cardiff Bay SC | Mark Oakey | Jess Smith | 4.0 | (9.0) | 8.0 | 1.0 | 22.0 | 13.0 |
| 7th | 1358 | Queen Mary SC | Charlie Whitaker | Lucy Gates | (6.0) | 6.0 | 6.0 | 6.0 | 24.0 | 18.0 |
| 8th | 1442 | Shoreham SC | Ben Jones | Helen Hilditch | (8.0) | 7.0 | 5.0 | 8.0 | 28.0 | 20.0 |
| 9th | 815 | Hunts SC | Oliver Jagger | Tom Kosteletos | 7.0 | 5.0 | (9.0) | 9.0 | 30.0 | 21.0 |
| 10th | 1134 | Shoreham SC | Louise Carr | Mark Trott | (11.0 OCS) | 10.0 | 10.0 | 7.0 | 38.0 | 27.0 |
R1 - 02-09-23
| Rank | SailNo | Club | HelmName | CrewName | Place | Points |
| --- | --- | --- | --- | --- | --- | --- |
| 1 | 211 | WWSC/SBSC | James Morson | Fiona Harrington | 1 | 1.0 |
| 2 | 1295 | Queen Mary SC | Andrew Wishart | Nina Luckmann | 2 | 2.0 |
| 3 | 1698 | RNSA | Thomas Goodey | Richard Thomas | 3 | 3.0 |
| 4 | 1740 | Cardiff Bay SC | Mark Oakey | Jess Smith | 4 | 4.0 |
| 5 | 1635 | Island Barn SC | Andrew Barnett | Lynne Radcliffe | 5 | 5.0 |
| 6 | 1358 | Queen Mary SC | Charlie Whitaker | Lucy Gates | 6 | 6.0 |
| 7 | 815 | Hunts SC | Oliver Jagger | Tom Kosteletos | 7 | 7.0 |
| 8 | 1442 | Shoreham SC | Ben Jones | Helen Hilditch | 8 | 8.0 |
| 9 | 1395 | RYA | Nigel Bird | Andy Bird | 9 | 9.0 |
| 10 | 1134 | Shoreham SC | Louise Carr | Mark Trott | OCS | 11.0 |
R2 - 02-09-23
| Rank | SailNo | Club | HelmName | CrewName | Place | Points |
| --- | --- | --- | --- | --- | --- | --- |
| 1 | 1395 | RYA | Nigel Bird | Andy Bird | 1 | 1.0 |
| 2 | 1635 | Island Barn SC | Andrew Barnett | Lynne Radcliffe | 2 | 2.0 |
| 3 | 1295 | Queen Mary SC | Andrew Wishart | Nina Luckmann | 3 | 3.0 |
| 4 | 211 | WWSC/SBSC | James Morson | Fiona Harrington | 4 | 4.0 |
| 5 | 815 | Hunts SC | Oliver Jagger | Tom Kosteletos | 5 | 5.0 |
| 6 | 1358 | Queen Mary SC | Charlie Whitaker | Lucy Gates | 6 | 6.0 |
| 7 | 1442 | Shoreham SC | Ben Jones | Helen Hilditch | 7 | 7.0 |
| 8 | 1698 | RNSA | Thomas Goodey | Richard Thomas | 8 | 8.0 |
| 9 | 1740 | Cardiff Bay SC | Mark Oakey | Jess Smith | 9 | 9.0 |
| 10 | 1134 | Shoreham SC | Louise Carr | Mark Trott | 10 | 10.0 |
R3 - 02-09-23
| Rank | SailNo | Club | HelmName | CrewName | Place | Points |
| --- | --- | --- | --- | --- | --- | --- |
| 1 | 1395 | RYA | Nigel Bird | Andy Bird | 1 | 1.0 |
| 2 | 1295 | Queen Mary SC | Andrew Wishart | Nina Luckmann | 2 | 2.0 |
| 3 | 1698 | RNSA | Thomas Goodey | Richard Thomas | 3 | 3.0 |
| 4 | 1635 | Island Barn SC | Andrew Barnett | Lynne Radcliffe | 4 | 4.0 |
| 5 | 1442 | Shoreham SC | Ben Jones | Helen Hilditch | 5 | 5.0 |
| 6 | 1358 | Queen Mary SC | Charlie Whitaker | Lucy Gates | 6 | 6.0 |
| 7 | 211 | WWSC/SBSC | James Morson | Fiona Harrington | 7 | 7.0 |
| 8 | 1740 | Cardiff Bay SC | Mark Oakey | Jess Smith | 8 | 8.0 |
| 9 | 815 | Hunts SC | Oliver Jagger | Tom Kosteletos | 9 | 9.0 |
| 10 | 1134 | Shoreham SC | Louise Carr | Mark Trott | 10 | 10.0 |
R4 - 02-09-23
| Rank | SailNo | Club | HelmName | CrewName | Place | Points |
| --- | --- | --- | --- | --- | --- | --- |
| 1 | 1740 | Cardiff Bay SC | Mark Oakey | Jess Smith | 1 | 1.0 |
| 2 | 1698 | RNSA | Thomas Goodey | Richard Thomas | 2 | 2.0 |
| 3 | 1295 | Queen Mary SC | Andrew Wishart | Nina Luckmann | 3 | 3.0 |
| 4 | 211 | WWSC/SBSC | James Morson | Fiona Harrington | 4 | 4.0 |
| 5 | 1395 | RYA | Nigel Bird | Andy Bird | 5 | 5.0 |
| 6 | 1358 | Queen Mary SC | Charlie Whitaker | Lucy Gates | 6 | 6.0 |
| 7 | 1134 | Shoreham SC | Louise Carr | Mark Trott | 7 | 7.0 |
| 8 | 1442 | Shoreham SC | Ben Jones | Helen Hilditch | 8 | 8.0 |
| 9 | 815 | Hunts SC | Oliver Jagger | Tom Kosteletos | 9 | 9.0 |
Sailwave Scoring Software 2.28.1
www.sailwave.com