RS200 Magic Marine National Circuit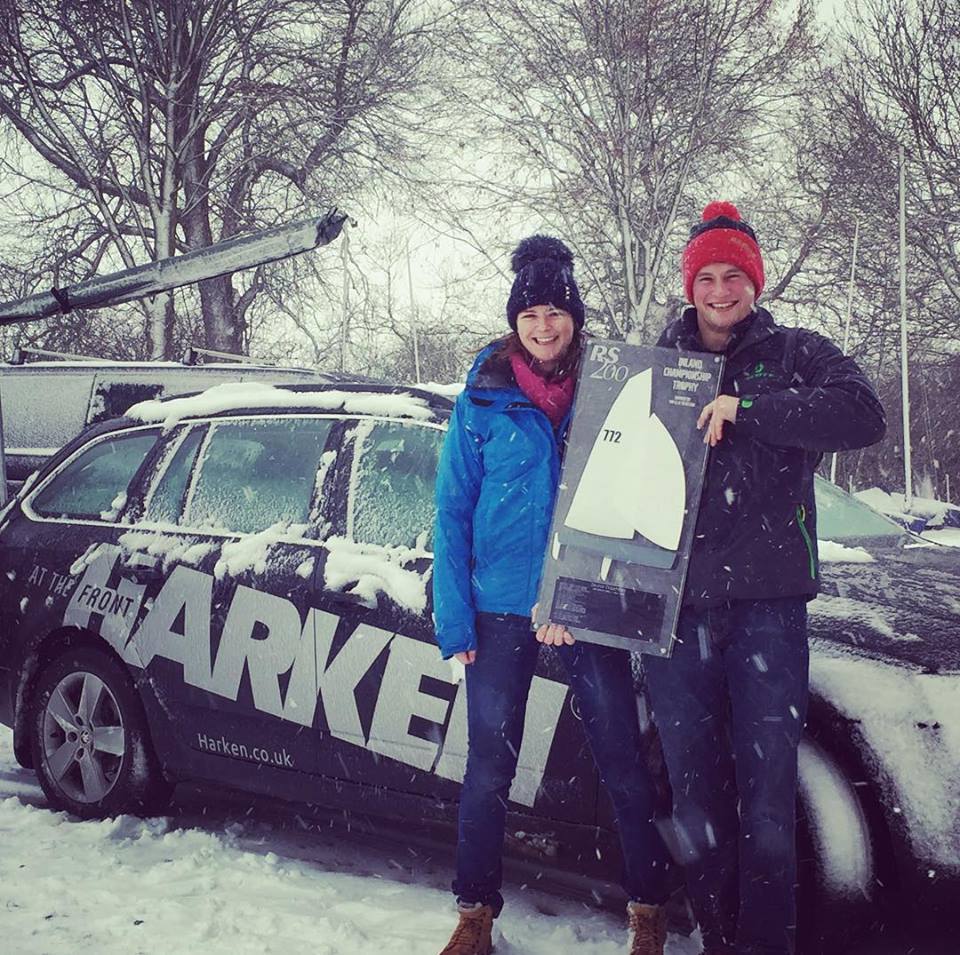 Congratulations to our Magic Marine RS200 National Circuit Winners Maria Stanley and Rob Henderson from Itchenor SC!
They sailed a perfect series, counting 1,1,1 to leave them just one point ahead of rivals Matt Mee and Emma Norris from Red Wharf Bay, counting 1,1,2.
Silver fleet winners, placed 6th overall, were Ed Gibbons and Tim Freeman/Liam Gardner from Brightlingsea SC, in the newly established Eastern Region, with Sam Waller and Lewis/Tim Waller from Beaver SC winning the bronze fleet title.
All winners will receive vouchers from title sponsor Magic Marine, whom the class association would like to thank for the years of support and generosity they have shown the class.
A record breaking 507 sailors from across the UK took part in the Magic Marine RS200 National Circuit 2017, we are hoping that with the RS Games 2018 will be even bigger and better. The first event is the Winter Championship at Bristol Corinthian, this weeknd 3rd and 4th February.
The photo shows Maria and Rob winning the last of the 2017 qualifying events, the RS200 Inland Championship - in somewhat extreme sailing weather!
Thanks to Emma Hivey and Clare Sargent for the results
Rank
SailNo
Club
HelmName
CrewName
Exe SC
YDSC
Southern Champs
Itchenor
Dalgety Bay
Brightlingsea
Inlands
Total
Nett
1
Gold
1642
Itchenor SC
Maria Stanley
Rob Henderson
1
126
126
1
126
126
1
507
3
2
Gold
1615
Red Wharf Bay / Burghfield SC
Matt Mee
Emma Norris
2
1
1
3
126
126
126
385
4
3
Gold
1331
Wessex SC
Tom Ballantine
Hannah Peters/ Maddy Anderson
126
126
19
18
126
2
2
419
22
4
Gold
1228
Burghfield SC
Joe Adams
Emma Lucas
126
126
17
17
126
5
126
543
39
5
Gold
1639
Arun YC
Jack Holden
Amy Yeoman/Alex Warren
126
126
27
9
126
126
4
544
40
6
Silver
1253
Brightlingsea SC
Ed Gibbons
Tim Freeman/Liam Gardner
126
126
40
36
126
6
126
586
82
7
Gold
1643
Itchenor SC
George Yeoman
Sophie Ormsby
126
126
2
2
126
126
126
634
130
8
Gold
1626
Parkstone
Ed Whitehead
Millie Alcock
4
126
5
126
126
126
126
639
135
9
Gold
1628
Ben Palmer
Claire Walsh
126
126
126
6
126
126
3
639
135
10
Gold
1237
HISC
Dicken Maclean
Hannah Young
7
126
126
7
126
126
126
644
140
11
TBC
1262
TBC
Seb Balch
Emma Knott
126
126
126
126
126
7
7
644
140
12
Silver
1631
Beaver SC
Martin Penty
Tim Waller/Tom Penty
126
3
126
126
126
126
13(DNC..)
633
142
13
Gold
1425
HISC / Northampton SC
Rory Odell
Josh Bonsey
126
126
21
126
126
126
14 (DNC..)
651
147
14
Silver
1552
Parkstone YC
Owain Hughes
Jade Bowen/Ian Mairs/Poppy Husband
8
126
16
126
126
126
126
654
150
15
Bronze
1071
Beaver Sailing Club
Sam Waller
Lewis/Tim Waller
126
5
23
126
126
126
126
658
154
16
Gold
1348
HISC
Elliott Wells
Ben Todd/ Tom Mckeen
126
126
8
32
126
126
126
670
166
17
Silver
1452
RYA
Alistair Hodgson
Joanna Worrall
10
30
126
126
126
126
126
670
166
18
TBC
1634
Stour SC
Oliver Turner
Rheanna Pavey
126
126
24
22
126
126
126
676
172
19
Silver
1546
Strangford Lough YC
John McKelvie
Sarah McKelvie
126
126
26
25
126
126
126
681
177
20
Gold
1178
Wembley SC
Julian Bradley
Helen Cafferata
126
126
25
27
126
126
126
682
178
21
TBC
1511
Eastbourne & Pevensey
Mike Green
Lynne Ratcliffe
126
126
32
24
126
126
126
686
182
22
TBC
1299
HISC
Kelvin Matthews
Kirsty Matthews
126
126
36
28
126
126
126
694
190
23
TBC
1308
ISC
Nicholas Blevins
Lilly Kottsieper
126
126
29
38
126
126
126
697
193
24
Gold
994
BSC
David Conlon
Sarah Bines
126
126
126
126
126
1
126
757
253
25
600
Eastlothian YC
Fiona Rigg
Helen Wightman
126
126
126
126
1
126
126
757
253
26
Gold
1637
Beaver SC
Oliver Groves
Esther Parkhurst
126
2
126
126
126
126
126
758
254
27
1120
Castle Semple SC
Peter Collings
Ali Morrish
126
126
126
126
2
126
126
758
254
28
Gold
629
HISC
Rob Henderson
Kirstie Urwin
126
126
3
126
126
126
126
759
255
29
Gold
1509
Bristol Corinthian
Alistair Norris
Helen Summersgill
3
126
126
126
126
126
126
759
255
30
TBC
626
BSC
Matt Taylor
Mike Taylor
126
126
126
126
126
3
126
759
255
31
1650
Royal Forth YC
Ronald Millar
Tor Millar
126
126
126
126
3
126
126
759
255
32
Gold
389
Spinnaker SC
Matt Reid
Kate Devereux
126
126
4
126
126
126
126
760
256
33
Gold
854
Andy Shaw,
Pippa Horne
126
126
126
4
126
126
126
760
256
34
TBC
1296
Yorkshire Dales SC
Matt Bromley
Faye Casewell
126
4
126
126
126
126
126
760
256
35
TBC
1142
Deben YC
Ben Alexander
Liz Alexander
126
126
126
126
126
4
126
760
256
36
998
Largs SC
Josh Kerr
Fenella Corlett
126
126
126
126
4
126
126
760
256
37
Gold
1365
Bristol Corinthian
John Teague
Naomi Pound
5
126
126
126
126
126
126
761
257
38
Gold
1543
Alan Roberts
Emma Best
126
126
126
5
126
126
126
761
257
39
Gold
1543
HISC
Christian Birral
Alan Roberts
126
126
126
126
126
126
5
761
257
40
930
Largs SC
Martin Faulkner
Bill Forsythe
126
126
126
126
5
126
126
761
257
41
Silver
418
Exmouth
Fred Mainwaring
Liz Teague
6
126
126
126
126
126
126
762
258
42
Gold
1082
Yorkshire Dales SC
Henry Raistrick
Jamie Raistrick
126
6
126
126
126
126
126
762
258
43
Gold
1603
Netley SC
Chris Catt
Roz McGrane
126
126
6
126
126
126
126
762
258
44
TBC
920
Middle Nene SC
Ed Connellan
Matt Rhodes
126
126
126
126
126
126
6
762
258
45
1098
Largs SC
Andrew Corlett
Callum Forsyth
126
126
126
126
6
126
126
762
258
46
Gold
772
HISC
Tom Hewitson
Lucy Hewitson
126
126
7
126
126
126
126
763
259
47
TBC
1135
Yorkshire Dales SC
Ben Murrell
126
7
126
126
126
126
126
763
259
48
366
Largs SC
Charlotte Nunn
Ashley Brown
126
126
126
126
7
126
126
763
259
49
Gold
1520
Owain Matthews
Rosie Sibthorp
126
126
126
8
126
126
126
764
260
50
Bronze
1560
Budworth
Jon Ward
Heather Ward
126
8
126
126
126
126
126
764
260
51
Silver
1617
Parkstone YC
Andy Hadfield
Rachel Hadfield
126
126
126
126
126
126
8
764
260
52
1357
BSC
Chris Rust
Jessica Rust
126
126
126
126
126
8
126
764
260
53
Silver
609
Exe SC
Rosie Sands
Sam Jackin
9
126
126
126
126
126
126
765
261
54
Silver
1374
Yorkshire Dales SC
Alistair Scott
Katie Scott
126
9
126
126
126
126
126
765
261
55
Gold
1625
Parkstone YC
Karen Oldale
Jo Hewitson
126
126
9
126
126
126
126
765
261
56
Gold
1621
HISC
Robert Gullan
Izzy Allerston
126
126
126
126
126
126
9
765
261
57
1126
BSC
Rebecca Bines
Connie Hughes
126
126
126
126
126
9
126
765
261
58
TBC
1268
Delph SC
Martin Smith
Barbara Smith
126
10
126
126
126
126
126
766
262
59
TBC
1536
Andrew Brown
Alex Sutcliffe
126
126
126
10
126
126
126
766
262
60
Gold
1559
QMSC
Andrew Peters
Jill Peters
126
126
10
126
126
126
126
766
262
61
Bronze
1663
Waldringfield SC
Hattie Collingridge
Katie Sparks
126
126
126
126
126
126
10
766
262
62
1338
BSC
Eddie Bridle
Brooke Hastings
126
126
126
126
126
10
126
766
262
63
Gold
629
Arthur Henderson
Mary Henderson
126
126
126
11
126
126
126
767
263
64
Gold
1004
Emsworth SC
Charlie Poyner
Jess Portway
126
126
11
126
126
126
126
767
263
65
TBC
1195
Bassenthwaite SC
Alex Leonard
Olivia Leonard
126
11
126
126
126
126
126
767
263
66
Silver
1466
Chew Valley
David Sweet
Nick Martingale
11
126
126
126
126
126
126
767
263
67
Bronze
1140
Redoubt SC/Downs SC
Hannah Mumford
Tara Head
126
126
126
126
126
126
11
767
263
68
Gold
910
HISC
James Hammett
Will Greenslade
126
126
12
126
126
126
126
768
264
69
TBC
1092
Bassenthwaite SC
Ethan Dawson
Ellie Clarke
126
12
126
126
126
126
126
768
264
70
Bronze
1342
Llandegfedd SC
Sarah Green
David Green
12
126
126
126
126
126
126
768
264
71
Gold
1391
Tommy Darling
Ben Todd
126
126
126
12
126
126
126
768
264
72
Gold
12
Parkstone YC
Niki Birrell
Kate Allam
126
126
13
126
126
126
126
769
265
73
Silver
3126
Thornbury SC
Hannah Smith
Nick Smith
13
126
126
126
126
126
126
769
265
74
TBC
801
Nick Martindale
Ruth Kenyon
126
126
126
13
126
126
126
769
265
75
TBC
1167
Ripon SC
Bernard Clarke
Tom Squires
126
13
126
126
126
126
126
769
265
76
Silver
16
HISC
Paul Lewis
Rosie Lewis
126
126
14
126
126
126
126
770
266
77
TBC
1118
Yorkshire Dales SC
Erica Caswell
Eleanor Everitt
126
14
126
126
126
126
126
770
266
78
Gold
1229
Rob Struckett, Kate Robinson
126
126
126
14
126
126
126
770
266
79
Gold
1445
Llandegfedd / Bristol Corinthian
Pete Vincent
Abi Campbell
14
126
126
126
126
126
126
770
266
80
Silver?
522
Exe SC
Victoria Upton
Ffion Morgan
15
126
126
126
126
126
126
771
267
81
TBC
872
Yorkshire Dales SC
John Turley
Anne Saul
126
15
126
126
126
126
126
771
267
82
TBC
1046
Hill Head SC
Joseph Bradley
Benjamin Bradley
126
126
15
126
126
126
126
771
267
83
Bronze
374
Bristol Corinthian
Chris Baber
Steve Pearce
16
126
126
126
126
126
126
772
268
84
TBC
1023
Anthony Parke
Claudia Wilson
126
126
126
16
126
126
126
772
268
85
Bronze
977
Bristol Corinthian
Paul Pritchard
Clare Horackova
17
126
126
126
126
126
126
773
269
86
Gold
1378
Stevie Wilson
Becky Kilburn
126
126
18
126
126
126
126
774
270
87
TBC
1554
Thomas Wright
Chris Coulcher
126
126
126
19
126
126
126
775
271
88
Gold
626
Will Taylor
Caitlin Jones
126
126
126
20
126
126
126
776
272
89
Gold (TBC)
1545
Parkstone YC
Georgie Vickers
Dan Vickers
126
126
20
126
126
126
126
776
272
90
Silver
1634
Cam Stewart
Tom Harrison
126
126
126
21
126
126
126
777
273
91
Gold (TBC)
849
HISC
James Ellis
Clare Whitehill
126
126
22
126
126
126
126
778
274
92
TBC
1378
Andrew Kilburn
Fiona Mulcahy
126
126
126
23
126
126
126
779
275
93
TBC
1614
Charlie Pyner
Kathy Marsden
126
126
126
26
126
126
126
782
278
94
TBC
1012
HISC
Charles Whelan
Cat Seddon
126
126
28
126
126
126
126
784
280
95
TBC
849
Preston Taylor
Claire Whitehall
126
126
126
29
126
126
126
785
281
96
Gold
1010
Downs SC
Katie Restall
Judy Restall
126
126
30
126
126
126
126
786
282
97
TBC
1652
Stewart Bowen
Jack Bowen
126
126
126
30
126
126
126
786
282
98
Gold
1347
David Jessop
Sophie Mear
126
126
126
31
126
126
126
787
283
99
TBC
1614
Emsworth SC
Philip Poyner
Alex Poyner
126
126
31
126
126
126
126
787
283
100
Silver
584
Tim Freeman
Hannah Liptrot
126
126
126
33
126
126
126
789
285
101
TBC
1423
Emsworth SC
Mark Riddington
Claire Power
126
126
33
126
126
126
126
789
285
102
TBC
1023
Warsash SC
Jamie Smith
Alice Powell
126
126
34
126
126
126
126
790
286
103
TBC
1235
Milly Pugh
Joanna Kalderon
126
126
126
34
126
126
126
790
286
104
TBC
864
Andy Shorrock
Katie Shorrock
126
126
126
35
126
126
126
791
287
105
TBC
1018
Downs SC
Simon Cory
Denise Judd
126
126
35
126
126
126
126
791
287
106
TBC
880
HISC
Duncan Jamieson
Jess Hammett
126
126
37
126
126
126
126
793
289
107
TBC
993
Jamie Webb
Rachel Tilley
126
126
126
37
126
126
126
793
289
108
TBC
1635
Island Barn Reservoir SC
Andrew Barnett
Jo Lloyd
126
126
38
126
126
126
126
794
290
109
TBC
880
James Hammett
Suzie Hammett
126
126
126
39
126
126
126
795
291
110
TBC
1262
Burghfield SC
Ben Rolfe
Claudia Wilson
126
126
39
126
126
126
126
795
291
111
TBC
627
Jez Fowke
Jo Fowke
126
126
126
40
126
126
126
796
292
112
TBC
519
Burghfield SC
Sue Brannam
Mike Proven
126
126
41
126
126
126
126
797
293
113
TBC
909
Jack Vincent
Lizzie Fuller
126
126
126
41
126
126
126
797
293
114
TBC
964
Lewis Bowen
Alice Powell
126
126
126
42
126
126
126
798
294
115
TBC
10126
Looe SC/Ullswater YC
Ollie Hawkins
Isabel Abbatt
126
126
42
126
126
126
126
798
294
116
TBC
1433
Charles Peacock
Sarah Peacock
126
126
126
43
126
126
126
799
295
117
TBC
1565
Welsh Harp SC
Roger Wilson
Tessa Darbyshire
126
126
43
126
126
126
126
799
295
118
TBC
984
Shoreham SC / Ullswater SC
Turner James
Sophie Cogger
126
126
44
126
126
126
126
800
296
119
TBC
1638
Seafareres SC
Kevin Woolnough
Debbie Woolnough
126
126
45
126
126
126
126
801
297
120
TBC
1437
Chew Valley Lake SC
Richard Hole
Tracy Hole
126
126
46
126
126
126
126
802
298
121
Bronze
1218
RNSA
Ben Easton
Alex Pickles
126
126
47
126
126
126
126
803
299
122
TBC
345
RYA
Martin Lown
Scott Ladyman
126
126
48
126
126
126
126
804
300
123
TBC
1029
Nick Robins
Billy Vennis-Ozanne
126
126
126
15
126
126
126
771
645
124
TBC
1355
Jamie Holmes
Katherine Harris
126
126
126
44
126
126
126
800
674
125
TBC
1246
Amelia Gammell
Archie Gammell
126
126
126
45
126
126
126
801
675